Picture this: natural wonders, dinosaurs, and incredible celestial constellations, all unfolding under the vast outback skies. An outback Queensland road trip is like stepping into a kid's dream and a true blue family adventure. Get set to dive into the ultimate family escapade right here in Queensland's outback. We're talking about rugged terrains, amazing cattle stations, stories of pioneers, and ancient marvels waiting to be explored. The best part? It's practically in your backyard! So, pack your camping gear, grab your travel guide, and let's uncover why the Queensland outback is the ultimate family holiday destination.
Unveiling the Australian Dinosaur Trail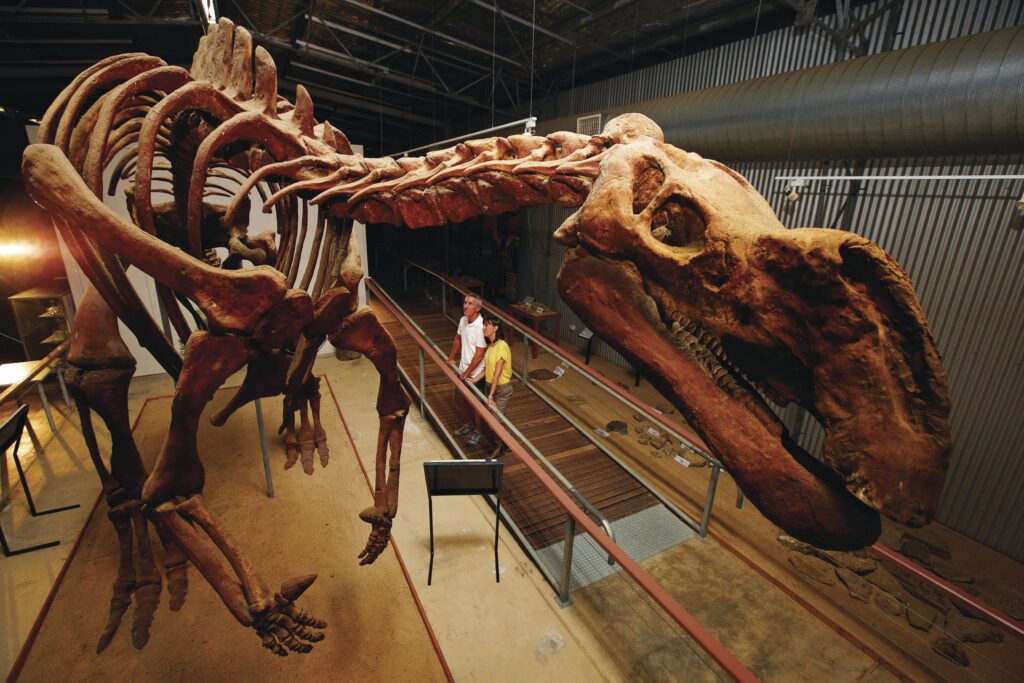 Imagine walking in the footsteps of giants, quite literally. The Australian Dinosaur Trail is an absolute must-visit for families with budding palaeontologists or simply a sense of wonder. This trail takes you on a thrilling journey through time, where the land itself tells a story that's millions of years old.
Start your adventure in Hughenden. Here, the kids can channel their inner palaeontologists as they discover real dinosaur fossils at the Flinders Discovery Centre. You'll be amazed by the gigantic bones of prehistoric creatures that once roamed this very land.
Meet Hughie, a 7-metre Muttaburrasaurus replica housed in a fantastic display inside the recently refurbished Flinders Discovery Centre and learn about our ancient past. Take in a wide range of fossils from cretaceous animals in rock to ammonites, and explore several different dinosaur bones, and vertebrae in the growing collection.
Whilst you're visiting make sure to explore the other interactive displays offering a fascinating glimpse into Hughenden's rich history. Then leave with a keepsake as you and the family unearth your own fossil at the Hughenden fossicking site.
But the Dinosaur Trail is not just about fossils.
It's also about jaw-dropping landscapes. If you stay on the Australian Dinosaur Trail you'll come across the 'Dinosaur Stampede' at Lark Quarry Conservation Park. Here you'll find a collection of fossilized dinosaur footprints that tell the tale of a dramatic ancient chase.
Don't forget to make a stop at Richmond's Kronosaurus Korner, where you can meet 'Banjo' – Australia's most complete plesiosaur fossil.
With every step on this trail, you'll be travelling back in time, sparking curiosity and awe in the hearts of young and old alike. It's an adventure that combines education and exploration in the most exciting way possible.
Love Dinosaurs?! Learn more about the Australian Dinosaur Trail – HERE
Porcupine Gorge: A Natural Wonderland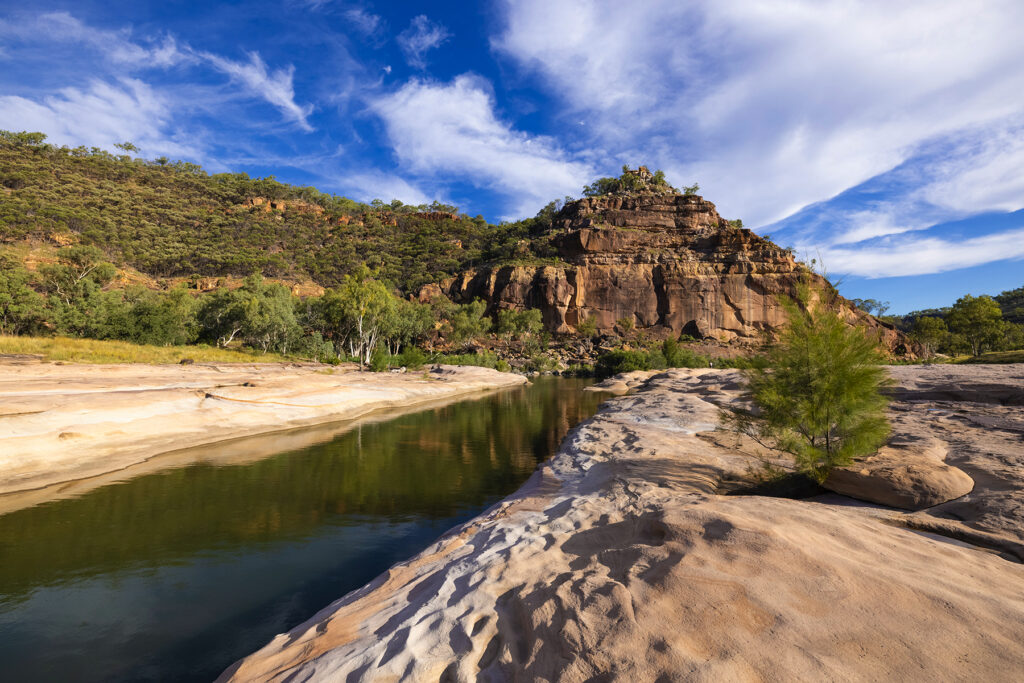 Imagine a place where sheer cliffs drop into a breathtaking gorge, where ancient rocks whisper secrets, and where your family can experience the wild beauty of the outback up close. Welcome to Porcupine Gorge, one of nature's masterpieces in the Queensland outback.
For families who love the great outdoors, Porcupine Gorge is a treasure trove of adventure. The towering sandstone cliffs, carved by the meandering Porcupine Creek, create a mesmerizing landscape that's perfect for hiking and exploring.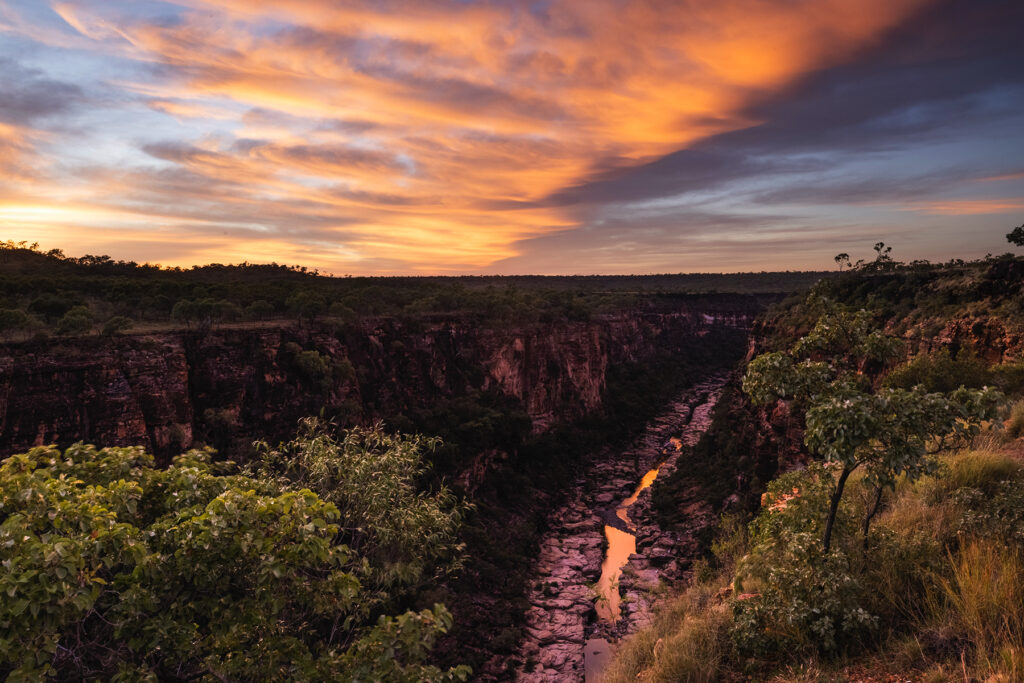 Make your way to the Pyramid Lookout, where you'll be rewarded with panoramic views of the gorge and the surrounding plains. Pack a picnic lunch and your swimmers and head down into the gorge. Once at the bottom, you can explore the gorge base in either direction to find your prime picnic spot by a swimming hole.
Camping is also an option, and there's nothing quite like sitting around a campfire under the vast outback sky, sharing stories, and gazing at the stars. It's a bonding experience your family will treasure forever.
If you are looking to camp at the gorge it's best to book in advance as the camping area has limited spaces and books out a week in advance, especially over the winter months – you can secure spot here.
Need more nature, national parks and reserves? Read more about our National Parks – HERE
Festival of Outback Skies: A Celestial Extravaganza and a glimpse into the best of the Outback
Set against the breathtaking Flinders Shire backdrop, the Festival of Outback Skies provides a wide range of activities for all ages. Live music, workshops, delectable cuisine, captivating art displays, bull-ride and non-stop entertainment. Families can enjoy a magical dinner beneath starry skies, thrilling bull rides, hilarious raft races, a lantern parade and so much more. The town comes alive for the festival and 'Hughie' welcomes you with open arms. A small town with a huge heart.

It's a celebration of outback culture, with live music, delicious outback cuisine, and the chance to immerse yourself in the rich history of this unique region.
The Inaugural Festival Of Outback Skies was early in 2023. Watch the highlight reel below
Look to the heavens: Outback Stargazing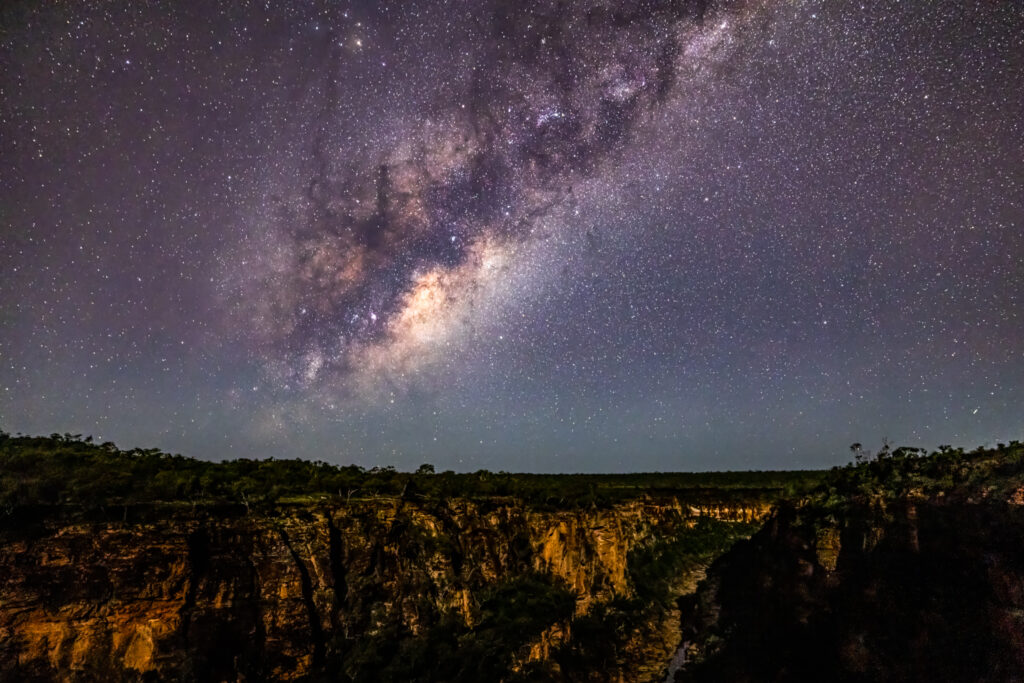 Pack your stargazing gear, because you're in for a treat. The outback's lack of light pollution makes it one of the best places on Earth for stargazing. Out west, you'll have the opportunity to explore the cosmos and witness the beauty of the night sky as you've probably never seen it before.
Kids, adults, grandparents – everyone will be captivated by the wonders of the universe, from the glittering Milky Way to distant galaxies. It's a rare chance to ignite and indulge your curiosity about space and science, especially for the kids.
Image Phil Copp – learn more about Phil Copp Photography and his Hughenden photo course HERE
The Adventure of a Lifetime awaits…
In the Queensland outback, every day is an adventure waiting to happen. The rugged landscapes, the intriguing history, the thrill of discovering dinosaur fossils, and the magic of stargazing all combine to create an unforgettable experience for families.
So, dust off your boots, load up the car, and get ready for a journey that will stay with you and your kids for a lifetime. The Queensland outback is not just a holiday destination; it's a place where dreams come true and where you can connect with the ancient wonders of the world.
As you explore this land of surprises, you'll also discover the warmth and hospitality of the outback's friendly locals. It's a place where the past and the present coexist harmoniously, offering a glimpse into the heart of Australia.
So, what are you waiting for? Grab your swag, get ready to boil the billy, and set off on the ultimate family adventure in the Queensland outback. Whether you're chasing dinosaurs, hiking through stunning gorges, or reaching for the stars, you'll find that the outback has something truly special to offer your family. It's time to create memories that will last a lifetime in this remarkable corner of the world.
More information
https://www.trailhiking.com.au/hikes/pyramid-lookout/
https://www.outbackqueensland.com.au/category/family-outback-holidays/
https://parks.des.qld.gov.au/parks/porcupine-gorge/camping
Back to all News