Whether you're a nature enthusiast, a history buff, or simply seeking a tranquil retreat, Hughenden provides a fantastic range of accommodation options to suit everyone. In this article, we will explore the best places to get your head down, and rest up in preparation for another day of exploring the stunning Flinders region.
OASIS Exchange Hotel Torrens Creek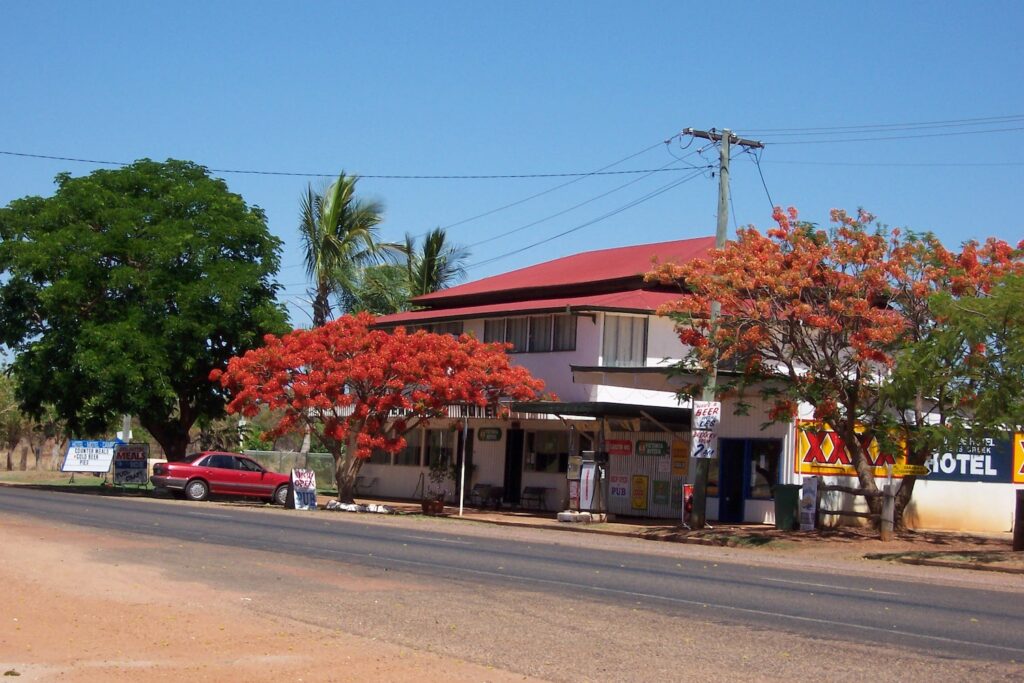 Nestled in Torrens Creek, Queensland, the Exchange Hotel offers a range of accommodation options for travellers, right on the Flinders Highway. With 8 to 10 powered sites available, an unlimited camping area, 5 comfortable motel rooms (including a Disability Unit), and 7 cosy hotel rooms, guests can find the perfect space to rest and relax. The hotel also features a refreshing swimming pool and a golf course for leisure activities. Meals are available, and there is a convenient laundry facility on-site.
For enquiries or reservations, contact 0407 948 296 | Email- info@oasisexchangehotel-torrenscreek.com.au .
Great Western Hotel-Motel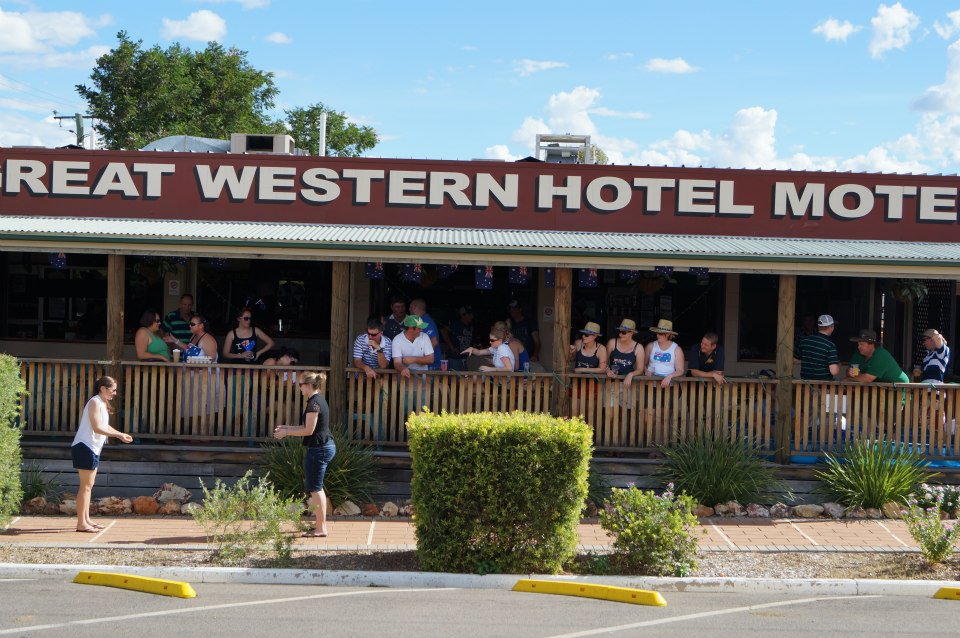 Situated in the heart of Hughenden, the Great Western Hotel-Motel offers seven comfortable air-conditioned motel units. Each unit is equipped with essential amenities such as a fridge, tea and coffee-making facilities, an ensuite bathroom, a television, and a telephone. Guests can enjoy the convenience of an on-site bar and dining room, along with additional amenities like pokies, a bottle shop, and a convenient drive-through option. Located on the main street of Hughenden, this hotel motel provides easy access to the town's attractions and services.
For reservations or enquiries, please contact (07) 4741 1454.
Hughenden Allen Terry Caravan Park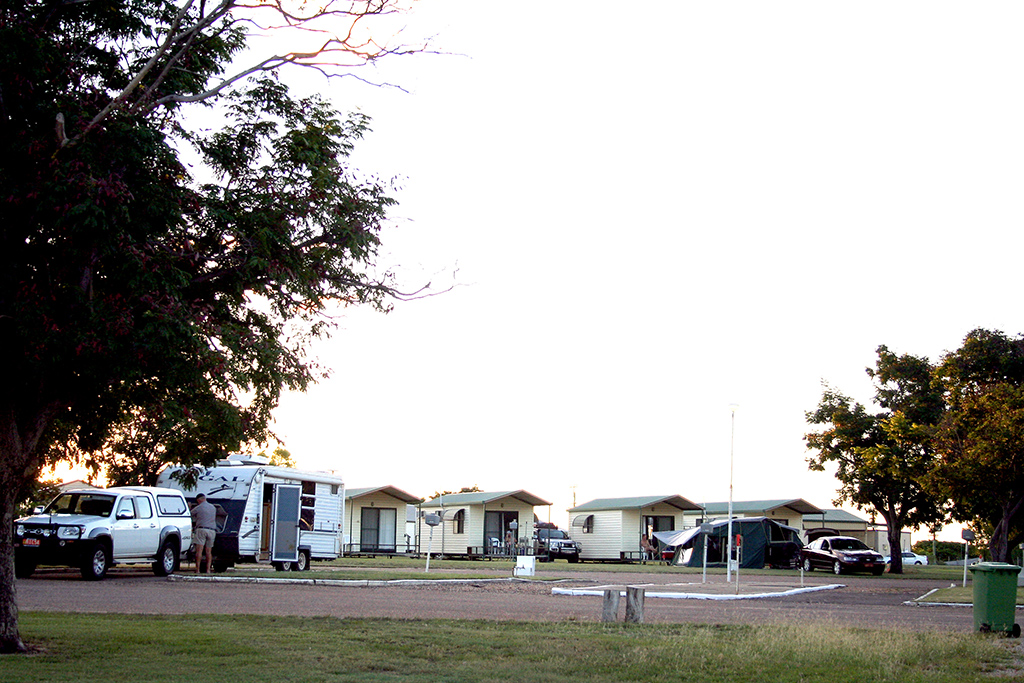 The Hughenden Allen Terry Caravan Park, located on Resolution Street, offers a range of accommodation options to suit every preference. Guests can choose from Standard, Ensuite, Deluxe, and Single cabins, ensuring a comfortable stay. The park also provides spacious caravan and camping sites for those travelling with their own accommodation. Clean amenities, a laundromat, a camp kitchen, and BBQ areas are available for guests' convenience. There is also a vehicle wash-down bay for easy maintenance. While pets are allowed in camping/caravan areas, they are not permitted in the accommodation units. The park's proximity to a supermarket and hotel adds to its convenience.
For enquiries or reservations, please contact (07) 4741 1190.
Hughenden Guest House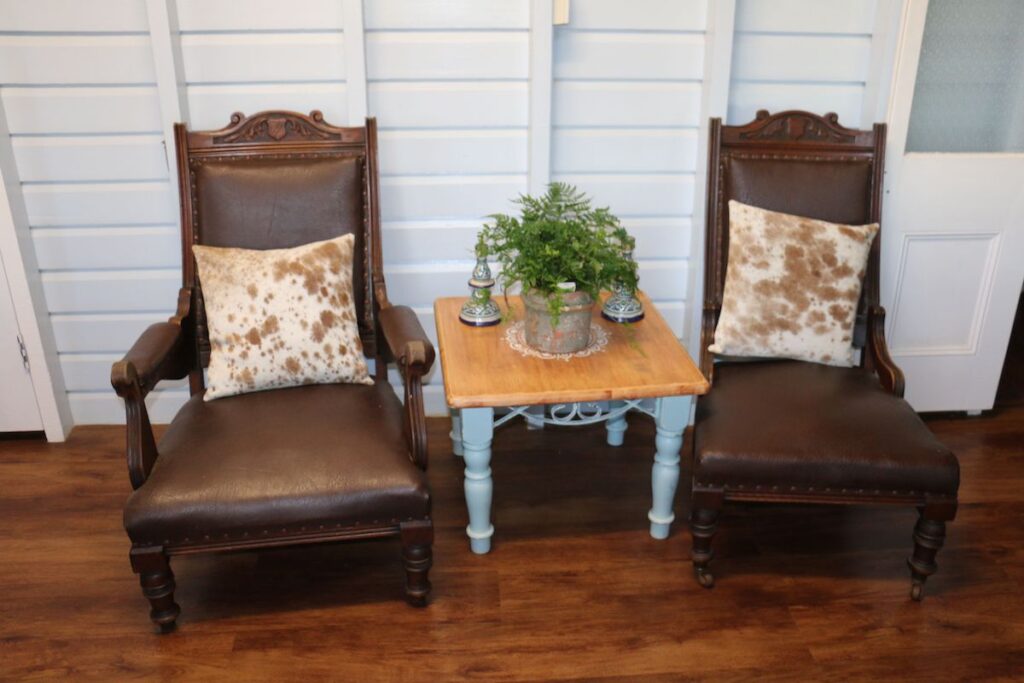 Located on Flynn Street, the Hughenden Guest House is a delightful 1920s Queenslander filled with charm and character. With four rentable rooms, each thoughtfully decorated, air-conditioned, and equipped with lockable doors and French doors, guests are sure to enjoy a comfortable stay. The guest house provides access to multiple living areas, outdoor dining spaces, a BBQ area, and a fully-equipped kitchen. Whether relaxing indoors or enjoying the outdoor amenities, guests can truly feel at home in this charming guest house.
For enquiries or reservations, please contact 0417 094 501.
Hughenden RV Park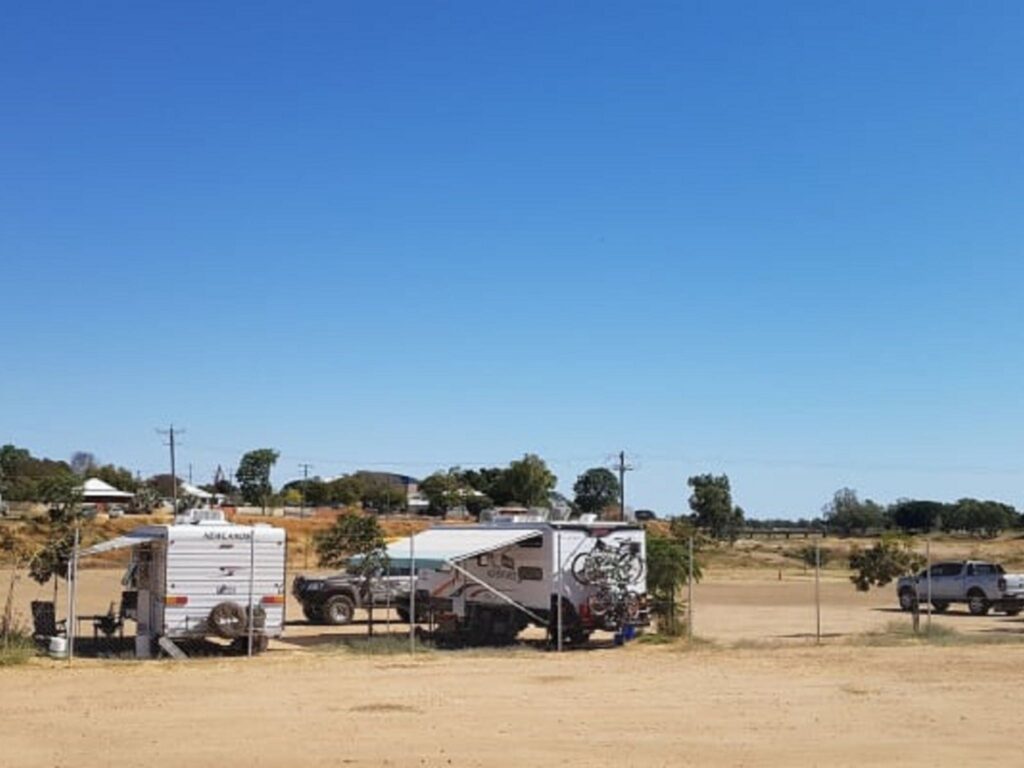 Hughenden RV Park offers free camping for fully self-contained vehicles, providing a convenient option for travellers. Situated in the car park of the Hughenden Showgrounds, the RV Park requires campers to register and display a permit. Permits can be obtained through self-registration at the RV Park itself. Visitors can book through the friendly team at the Flinders Discovery Centre located at 37 Gray Street. The RV Park offers a budget-friendly accommodation choice for those on the road.
For more information, please contact (07) 4741 2970.
Mowbray Cottage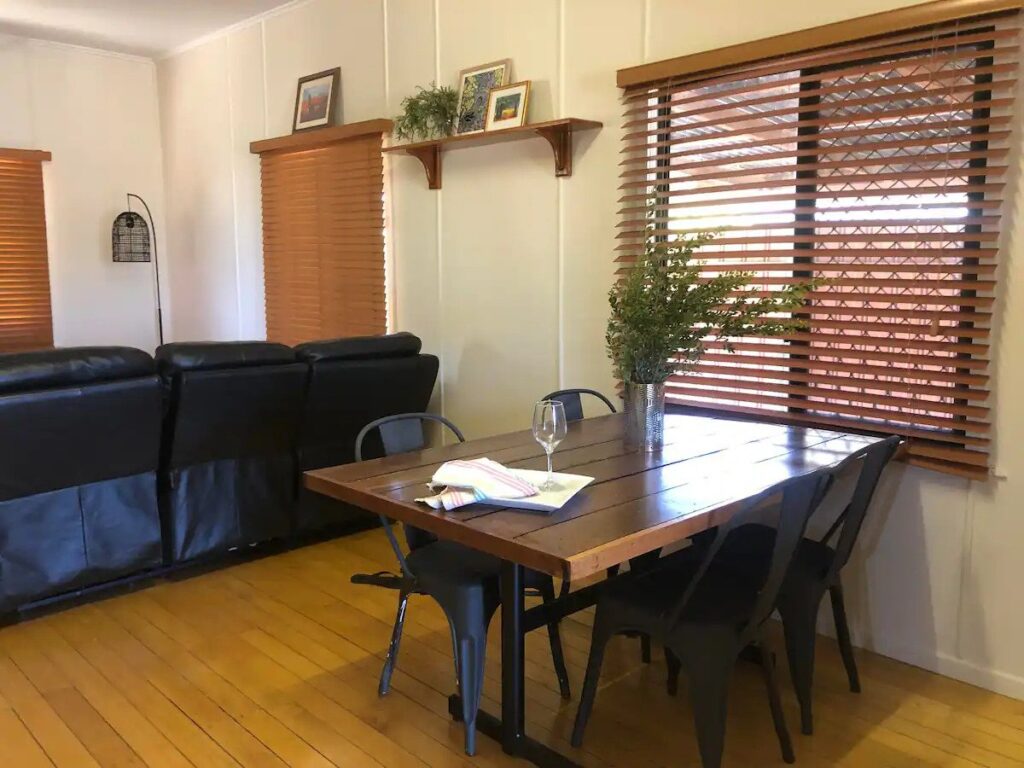 Located in an ideal spot on Mowbray Street, Mowbray Cottage offers a charming retreat along the banks of the Flinders River. Guests will find themselves within a short stroll or a quick drive from all essential amenities, including pubs, supermarkets, the picturesque river walk, and the incredible recreational lake. The cottage itself is fully self-contained and air-conditioned, providing a comfortable and relaxing environment for guests. Discover the beauty of Hughenden while enjoying a stay at Mowbray Cottage.
Prairie Hotel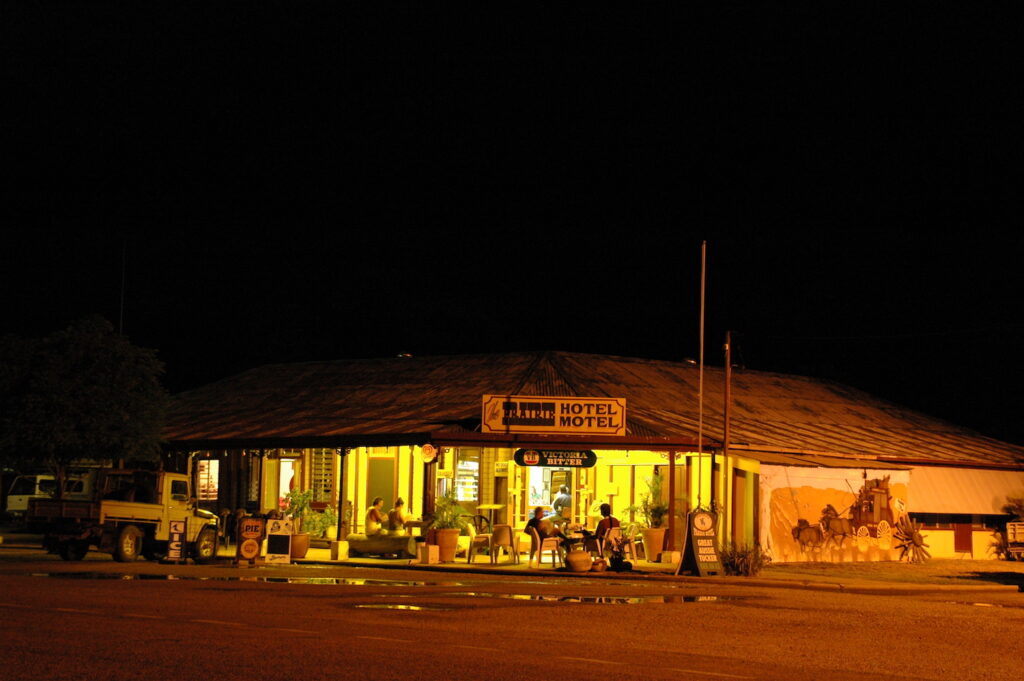 Located on Flinders Highway, The Prairie Hotel offers a delightful dining experience in a country-style dining room. Guests can enjoy their meals while taking advantage of outdoor seating on a shady veranda, immersing themselves in the charming rural atmosphere. The hotel also caters to families with a dedicated children's playroom, and entertainment options such as a pool table and a big-screen television. Beer on tap and ice-cold beverages are readily available at the bar, which proudly displays a unique collection of "Old Ringers" hats and captivating memorabilia. For a memorable dining experience and a taste of rural Queensland, visit The Prairie Hotel.
Contact (07) 4741 5121 for further enquiries.
Rest Easi Motel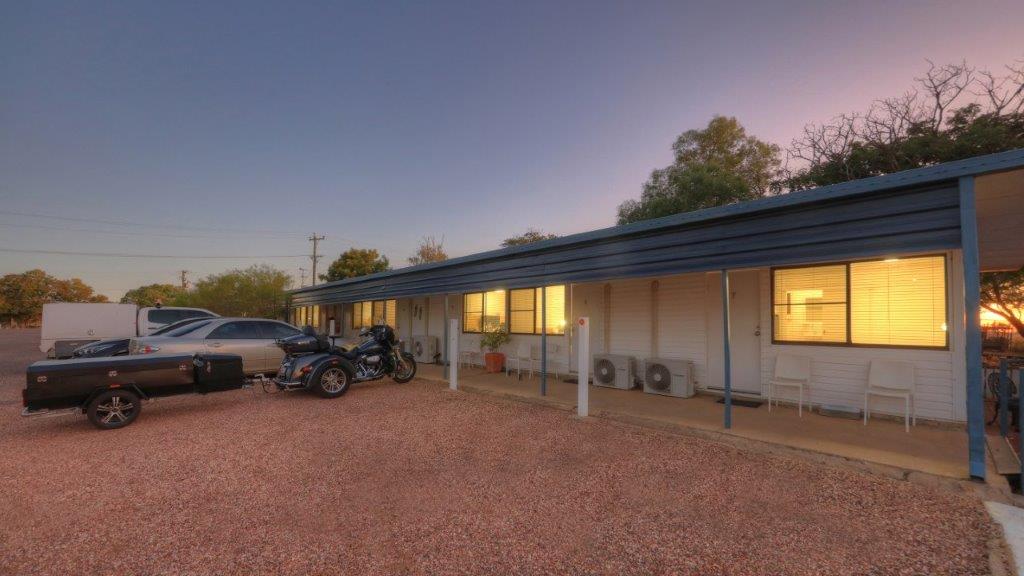 Conveniently situated on Richmond Hill Drive, this accommodation offers 15 semi-self-contained units, each equipped with reverse cycle air-conditioning for a comfortable stay. Guests can take advantage of the on-site laundry facilities, ensuring a convenient and hassle-free experience. For those who prefer to dine in, meals prepared in-house can be delivered directly to the units. A BBQ area is also available for guests to enjoy outdoor cooking and socializing. Located on the main road towards Mount Isa, this accommodation offers easy access to the region's attractions.
For enquiries or reservations, please contact (07) 4741 1633.
The Royal Hotel Hughenden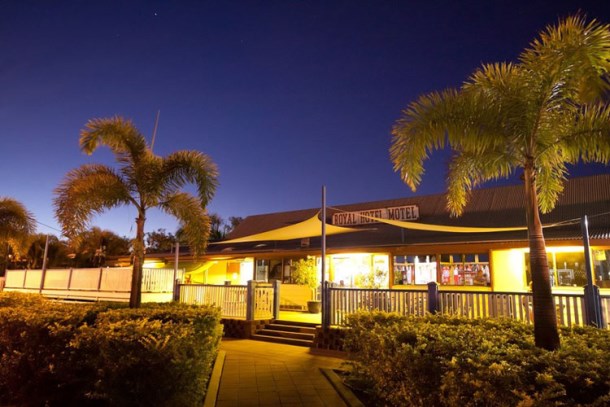 Located on Moran Street, this accommodation offers 45 comfortable ensuite motel units, providing a convenient and pleasant stay for guests. Additionally, there are four semi-contained units with private bathrooms available. The establishment features a range of entertainment options, including pokies, TAB facilities, and an ATM machine. Guests can also relax and cool off in the swimming pool. The Royal's proximity to a supermarket adds to its convenience. Please note that the establishment is open from Monday to Sunday, with the exception of Tuesdays. Lunch is served from 12 pm to 2 pm on weekends only, while dinner is available from 6 pm to 8.30 pm.
For reservations or enquiries, please contact (07) 4741 1183.
The Town House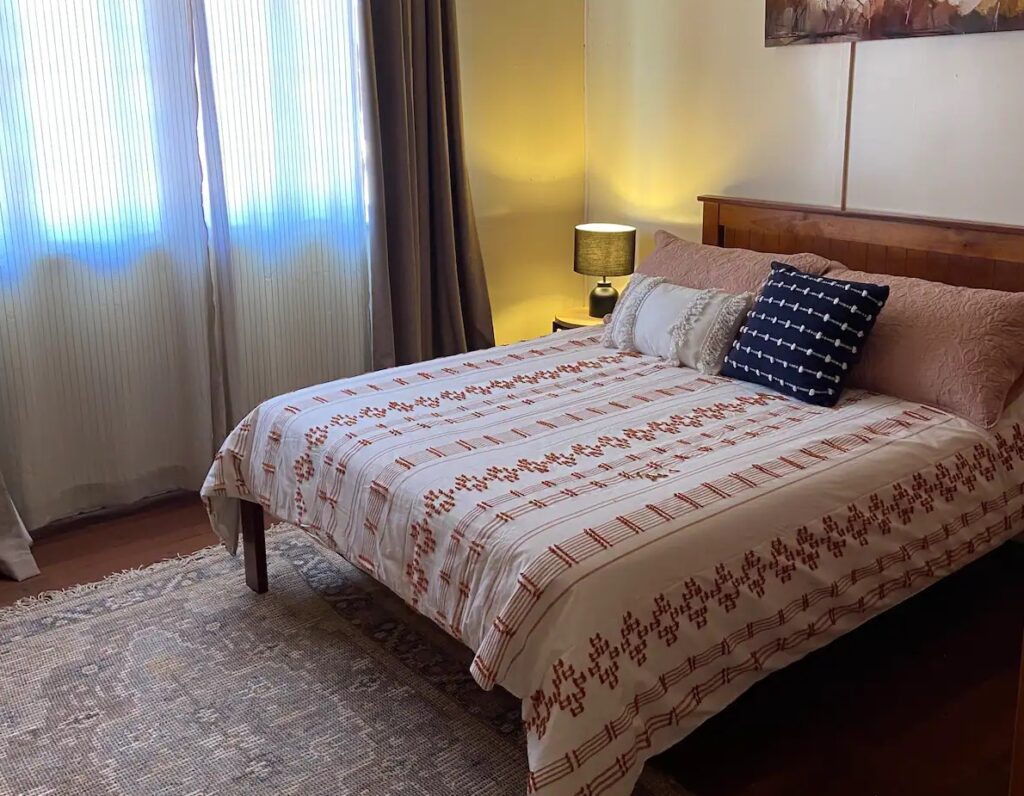 Offering comfort and convenience, this delightful three-bedroom country cottage is the perfect choice for a short or extended stay in Hughenden, Northwest Queensland. The bedrooms and lounge room are equipped with air-conditioning, ensuring a pleasant retreat from the Queensland heat. With a carport and ample off-street parking, guests have no trouble finding a secure spot for their vehicles. The cottage is just a short drive away from the Recreational Lake, River Walk, and all essential amenities, making it an ideal base for exploration. The fully equipped kitchen provides all the necessary tools for preparing meals, allowing guests to feel right at home during their stay.
Come For A Visit
Looking to stay in Flinder Shire? With its natural beauty, intriguing history, and the warm hospitality of the locals, we don't blame you! From serene landscapes to fascinating historical sites, this captivating destination offers something for everyone. Whether you prefer the convenience of a motel, the tranquillity of a caravan park, or the charm of a historic hotel, Hughenden's accommodation options cater to every traveller's preferences. So, embark on a journey to Hughenden and immerse yourself in the enchanting allure of this authentically Aussie destination.
Back to all News