This article was orginially published in the Townsville bulletin – HERE
It's not every day your beer is poured by someone who's spent years inside maximum security prisons, but the Torrens Creek Exchange Hotel is a unique place. The new owners are a hus- band-and-wife duo fresh from Melbourne, where they worked as a prison guard and financial adviser respectively. The move north began when wife Priscilla Harrison declared a sunny Queensland change was in order. Husband Cliff decided it was time to lay his cards on the table.
"She was originally looking at a house in Yeppoon and was telling me about how I could transfer to Capricornia Correctional Centre," Mr Harrison said.
"I turned to my wife and said, 'if we're going to QLD, I don't want to go back to working in another prison' and she said 'yeah, OK'." Their happy medium was to buy a pub.
Mr Harrison said after working inside Her Majesty's Prison Barwon for so long, his opinion on people had 'faded somewhat', but his view took a sharp turn when they collected the keys in January.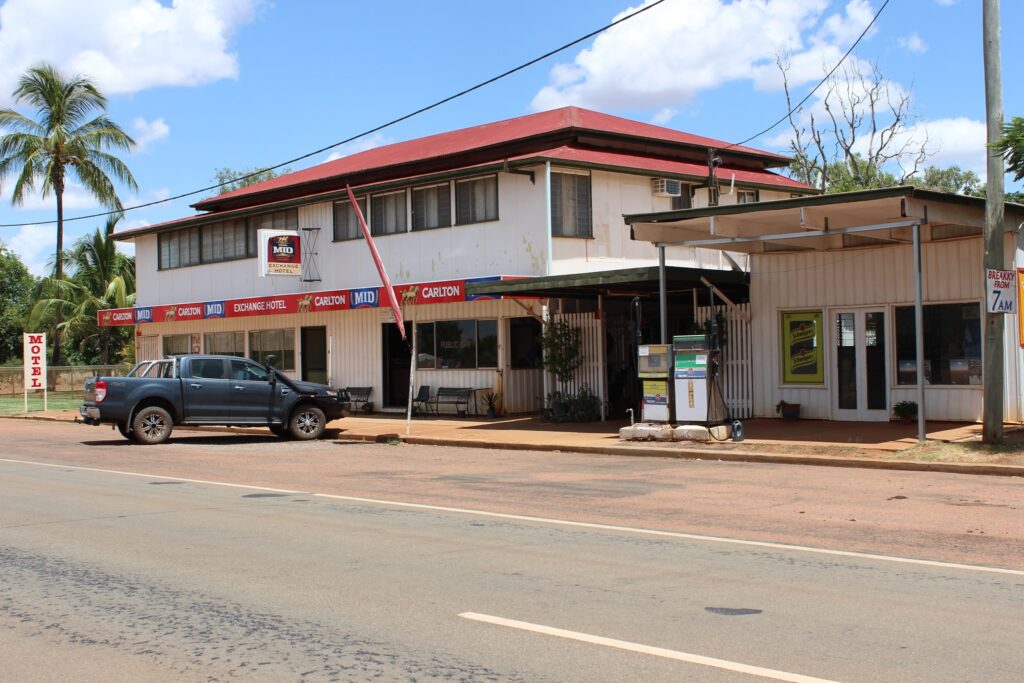 "The friendliness of the community was unbelievable. They made us feel like we were welcome from day one. It's really stunned us," he said.
"Coming out here, it's repaired my faith in society. Australia is truly alive in these outback places."
The Harrison's are not completely wet-behind-the- ears when it comes to hospitality. Mr Harrison grew up in Darwin and Cairns, entering the workforce as a baker's apprentice and pastry chef before becoming one of the first employees at Cairns Reef Hotel Casino.
Mrs Harrison worked in pubs from the ages of 14 to 20, and plans to bring some 'Melbourne flair' to Torrens Creek which essentially means great barista coffee and a stronger 'cafe vibe'.
While being interviewed by the paper, the new owners juggled customers between each question: brewing coffee for the local cop, cooking big lunches for work crews, sandwiches for truck drivers and some lattes for a pair of grey nomads.
Mrs Harrison said there were only 20 people in Torrens Creek, but their regulars came from far and wide.
"A lot of our customers are travelling up and down the highway often. All the stations around here will drive 150km for a dinner," she said.
"Right now I'm starting work at 4am to make breakfast for a council crew who are staying with us while they mow the verges. Their workday starts at 5.30am."
The couple decided to purchase the Exchange Hotel because of its highway exposure, fuel service (the only fuel between Charters Towers and Hughenden), campgrounds and budget rooms.
"It really is the gateway to the Flinders Shire," Mrs Harrison said. "My vision is to create a resort-style business here."
This has driven Mrs Harrison to spearhead a name change for the Exchange Hotel, dubbed it the reborn 'Oasis Exchange Hotel'. Since taking over, the new owners have made strides towards their paradise-esque vision by installing a slushie machine and ice-cream maker, spruced up the bistro area, and crafting a homemake extension to the bar.
"Cliff is in the process of becoming a Justice of the Peace so people can come to the pub to get their documents signed," Mrs Harrison said.
"The next big thing is to set up a general store area in the old dance hall. We want to bring events back to the area and have free outdoor cinema nights. During Easter we're planning a big camp and cook-up with a pig on the split."
Flinders Shire councillor Trevor Mitchell was also at the pub for a feed.
"Flinders Shire Council is aggressively supporting new business owners, we want them to have a go," Cr Mitchell said. "There were 40 new businesses started in the Shire last year – now that tells you something."
Recently the council auctioned off 48 affordable blocks of land with bidding prices starting at just $9. Cr Mitchell said the last owner did a great job with the pub and the new publicans will 'put their own spin on things'.
"There is a lot going on in the pub. Half of Germany has written their names on the ceiling," he said.
The Exchange Hotel is currently hiring and can provide accommodation to interested employees.
Back to all News