The vast, sweeping landscapes of Outback Queensland have a unique allure, captivating anyone who gazes upon them. For Angie Nisbet, host of the popular podcast "Married to the Land," these landscapes are not just a backdrop to life; they are a ceaseless source of inspiration. We got five minutes recently, with the podcaster, farmer, wife and mother as she provided insights into the Flinder's region, working on the land, starting her podcast and the allure of outback Queensland.
Community, seasons and inspirations.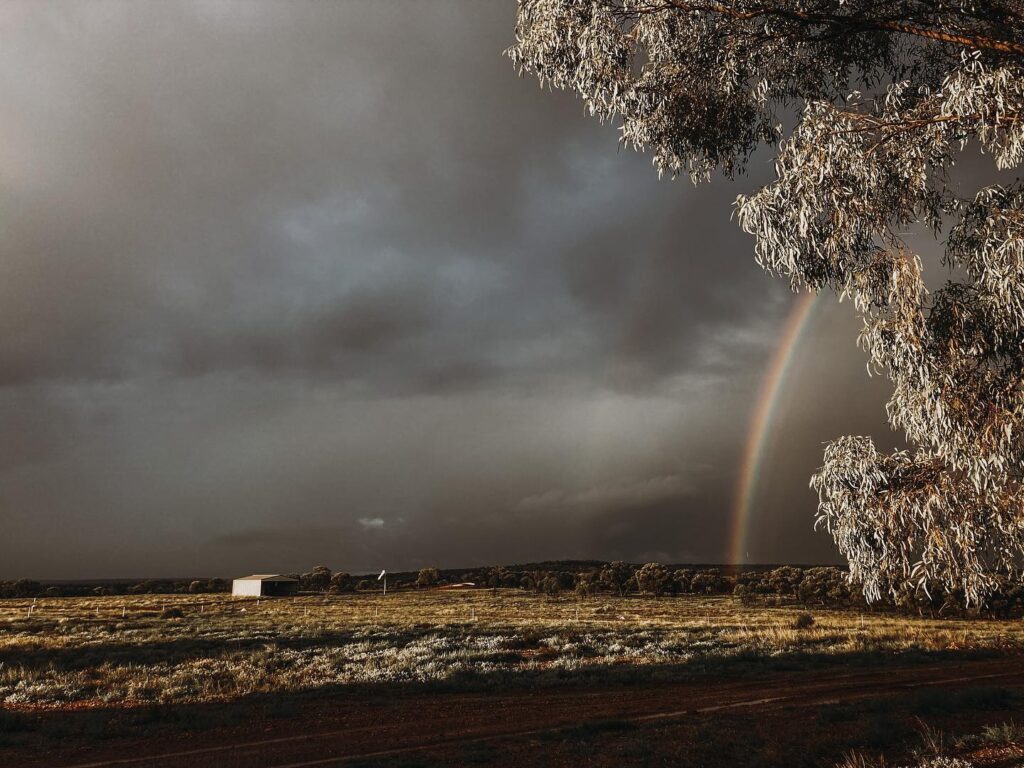 Angie describes her connection to the outback, the community and the ever-changing season as the source of her inspiration.
"The landscape is what I have fallen in love with. It's a priceless one, and I think we are so lucky to look at it every day in all its shapes and forms during each season."
But it's not just the land that keeps Angie rooted in the outback. It's partly due to the tight-knit community, where "everyone knows everyone," which provides a sense of belonging and safety that is unparalleled.
"You feel very safe to bring your family up in an environment where people know who you are," Angie shares.
And then there's the work – caring for the land and nurturing the property so that it can sustain cattle, sheep, and goats. Angie is deeply passionate about her role.
"I love working on the land and looking after our property so that it can sustain what we are producing."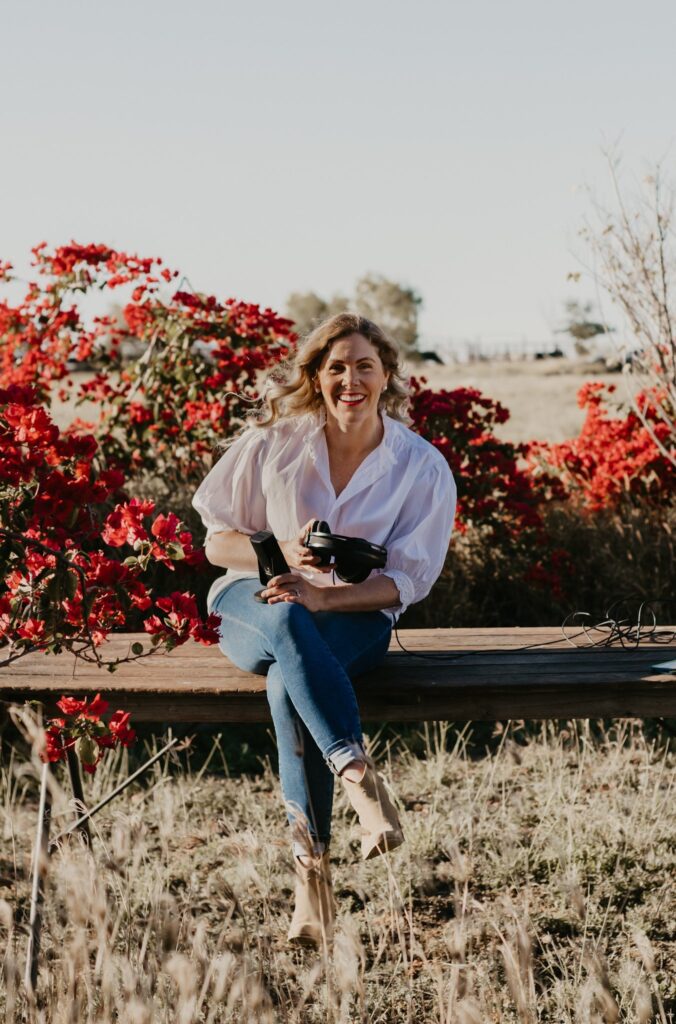 A storyteller from out west
Angie Nisbet's journey into podcasting and her podcast "Married to the Land," is a testament to the power of storytelling.
"Knowing I was moving back home to our family property, I was thinking about a way I could stay connected and meet more women in the rural sector."
The catalyst for this venture was an in-depth conversation with a lifelong friend, during which they delved into the challenges and triumphs of rural life.
"It was a conversation that really resonated with me," Angie reflects, "so after a few weeks of that conversation not leaving my head, I decided to act on it. The podcast idea was born."
Angie's podcast celebrates the stories of women who have lived and thrived in the outback. 
"It was just a matter of getting the stories together," she explains. Angie, who herself embodies resilience and determination, recognized the value of sharing these narratives with a wider audience and the aim to connect, through commonality, all different women living off the land across Australia.
Living on the land – forging a life in the outback
Angie's jobs are almost never done, the life of a farmer, mother, partner and podcasters are a whirlwind of daily chores. Livestock care, school runs, feeding and watering (bipeds and quadrupeds) and the demands of running a successful podcast all add up to a very full schedule. For Angie, it's a delicate juggling act that requires adaptability and an understanding of the land her and her family work with.
The day starts early for Angie. ​​"Daily chores include house duties, watering the garden, checking the cattle and goat's troughs, mustering when we need to, fencing and maintenance, cooking for any of the workers, office work, children, and more children."
But the day doesn't stop there. Angie is also dedicated to livestock care, ensuring that the livestock is well looked after and in the best condition.
"We are moving cattle to the best paddocks with the best feed, which allows the animals to stay at their best for production. We need to keep an extremely close eye on them during summer when the weather heats up and make sure their waters are clean and they have enough water getting to them at all times."
This meticulous attention to the well-being of their livestock is crucial, especially during the scorching summer months. "It's never-ending," Angie adds. "No day is the same, we are at the call of the land and the opportunities when they present themselves."
Even Angie's children play a pivotal role in ensuring that the work gets done. "We need to be flexible with the kids. The eldest two are at school, so it's the school run during the school term, and then working on the property in between drop-off and pick-up." Their youngest child accompanies them throughout the day, with a quick lunchtime break for a nap. "Otherwise, she just sleeps on the go in her chair in the buggy." Angie notes.
Despite the demanding schedule, Angie also dedicates time to the Married to the Land podcast, whether that's thinking about potential interviews, ideas or her community of followers.
"I am always thinking about guest people and making sure the Married to the Land podcast community is looked after. I want it to be a space of inclusion, openness, and learning for anyone who follows along." Angie maximises their time by working on the podcast during lunch breaks and late into the night. "I do a lot of lunchtime and nighttime work and make the most of keeping into of everything so that I can priorities podcast and property."
For Angie every day is a dynamic mix of responsibilities, from managing livestock to nurturing their podcasting community. It's a testament to their resilience and adaptability as they work the land.
Connection to Place and Inspiration from Northwest Queensland
Growing up around the Flinders Region and Northwest Queensland has left an indelible mark on Angie's life.
"I think also knowing myself and what it has taken to get to where I am today was a great help too. I knew my story, and I knew I wouldn't have been the only one with a story." She explains.
However, it wasn't without its challenges. Angie acknowledges that limited internet access in rural Australia poses a significant obstacle. 
"Internet and learning what kind of interview style I wanted to conduct was a challenge. The internet in rural Australia is so far behind that of metropolitan areas. I think that living in the bush has huge positives but it also lags us on the business front to be able to access fast and affordable internet. But I also think that the internet has allowed me to create a podcast that can talk to anyone from anywhere in the country and across the world. So it's been a game changer. The last challenge I have had is getting businesses to want to come on board and support."
Women podcasters still only make up a very small percentage of the podcasting world. Male podcasters still hold a big listenership, Angie envisions a future where some businesses really take a chance on rural women and allow them to really thrive.
Despite these hurdles, Angie persevered and now connects with a global audience highlighting the unique experiences of outback women.
The Outback has its own challenges and rewards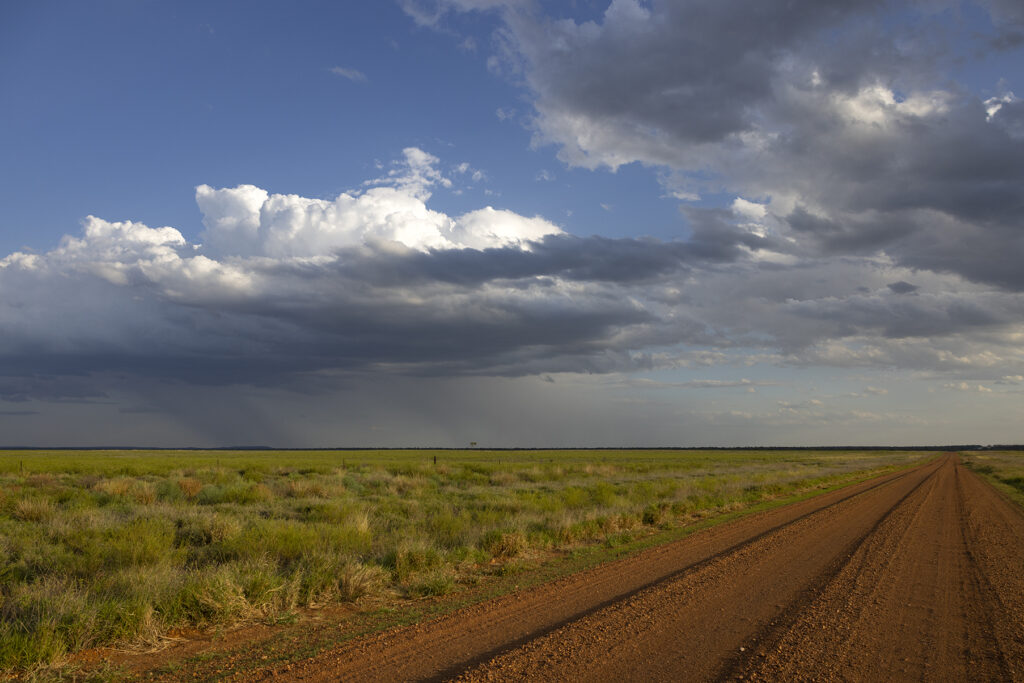 Living in the outback brings with it its own set of challenges and rewards as Angie reflects community, togetherness and responding to crises serve as a catalyst for bonding. 
"Living in a rural community is amazing. I believe we actually see things in a much bigger picture and from a different perspective."
"Living on the land can get very full on when we need to be," Angie acknowledges, "but as a family farming, we are all doing it together, and the kids get to learn some amazing life skills and also resilience. They learn about life and death with animals and also how things be produced and consumed."
But it's not all idyllic. Angie acknowledges the challenge of bridging the gap between rural and urban communities. She says, "Getting people who are not from the rural/ag sector to understand how and why we do what we do" remains an ongoing challenge.
"Rural towns need farming families and farming families need rural communities we all need to be working together to create a healthy and vibrant area where people want to come and live and see opportunity."
Angie is also a huge advocate of regenerative farming a method that ensures sustainability and longevity of production by rebuilding soil organic matter and restoring degraded soil biodiversity.
"I am also a big believer in regen grazing my family has been doing it for more than 20 years which means we are grass farmers first and then livestock farmers. We need to take care of our properties so that future generations have one to come back to."
Advice for Travelers, ANYONE INSPIRED TO MOVE TO THE REGION.
For travellers considering settling in the Flinders Region, Angie offers some sage advice:
"Pay attention to the drive and lifestyle that people in the west have chosen to live." She also emphasises the importance of supporting local businesses and engaging with the community and living on property. "Stop and talk to the locals, get out to a property if you can it's amazing."
Events in the Flinders Region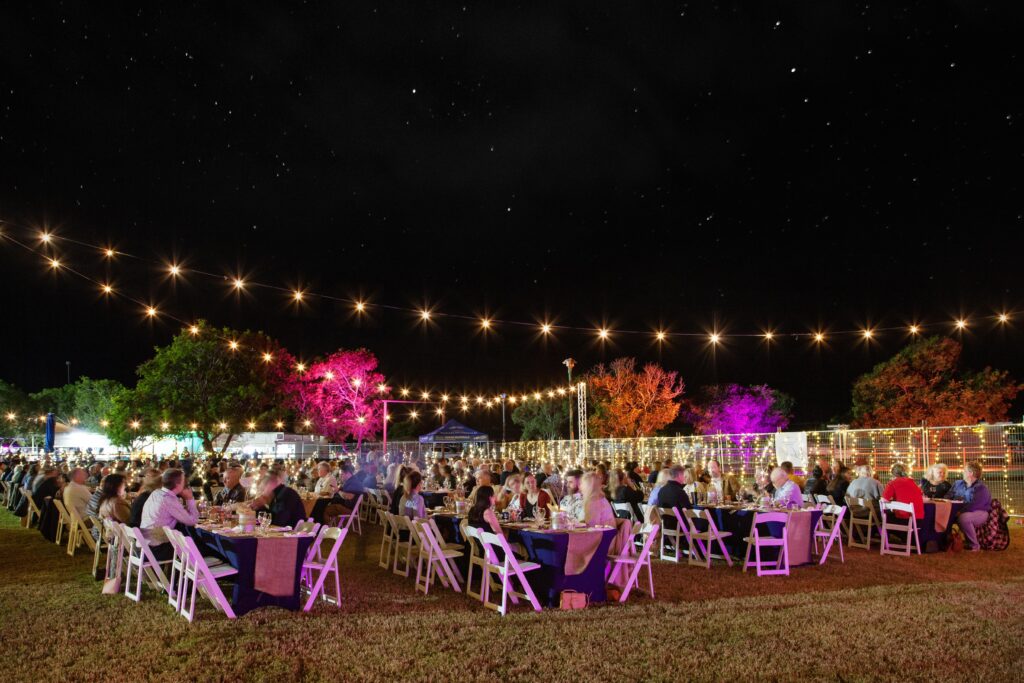 Reflecting on her recent experience at the Festival Of Outback Skies, Angie shares, "The festival was a new event to the Flinders Shire, and it was a fun few days which had a lot of different events to see and do."
She particularly enjoyed the sculpture display and the raft race, showcasing the vibrant and creative spirit of Hughenden.
Finally, Angie recommends some must-visit events in the region all of which exemplify the community's dedication and passion.
"I really recommend the Hughenden races Kooroorinya races, HUGHENDEN Rugby 7's, and the Hughenden show. All are very community-driven and well put together."
Exploring Hughenden's Treasures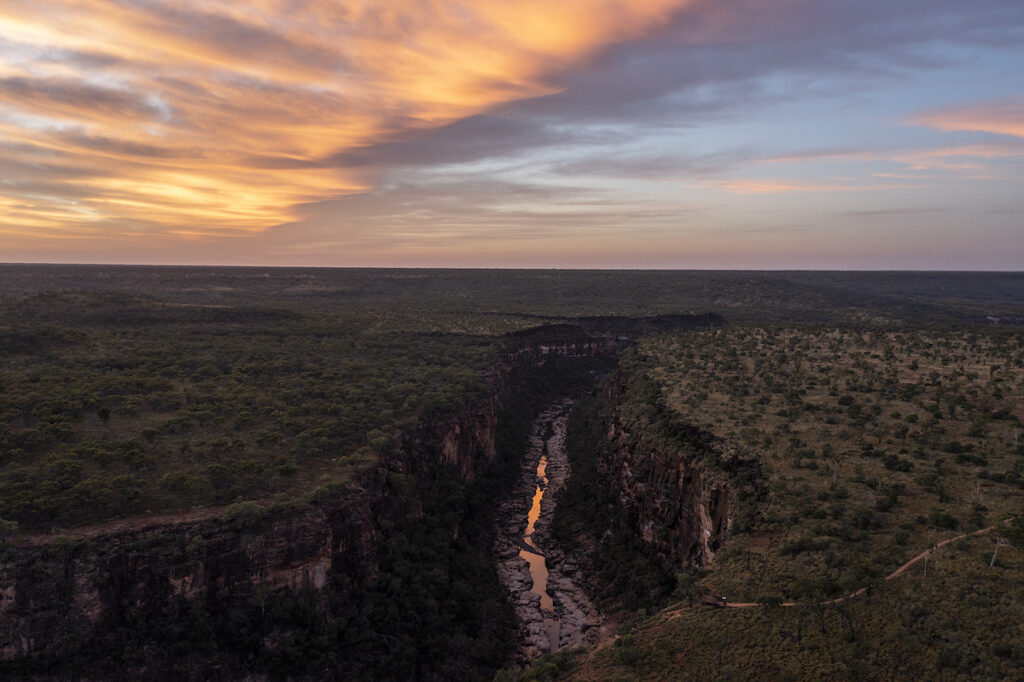 Angie's love for the Flinders Region extends to some of her favourite activities in the Hughenden area. "Porcupine Gorge is unreal!" she exclaims, highlighting the natural beauty of the region. She also encourages visitors to take a chopper flight to witness the spectacular landscapes from above. Lastly, she emphasises the joy of attending community events, where one can truly experience the heart and soul of the Flinders Region.
Angie Nisbet's journey, both in life and through her podcast, is a testament to the resilience, spirit, and sense of community that defines Outback Queensland. Her love for the land, dedication to storytelling, and commitment to bridging the urban-rural divide are inspirations for all listeners of "Married to the Land" and exploring the breathtaking outback region she calls home.
You can listen to Angie and all the episodes of Married to the Land – HERE
Back to all News