Endless Horizons and Opportunities
INVEST IN HUGHENDEN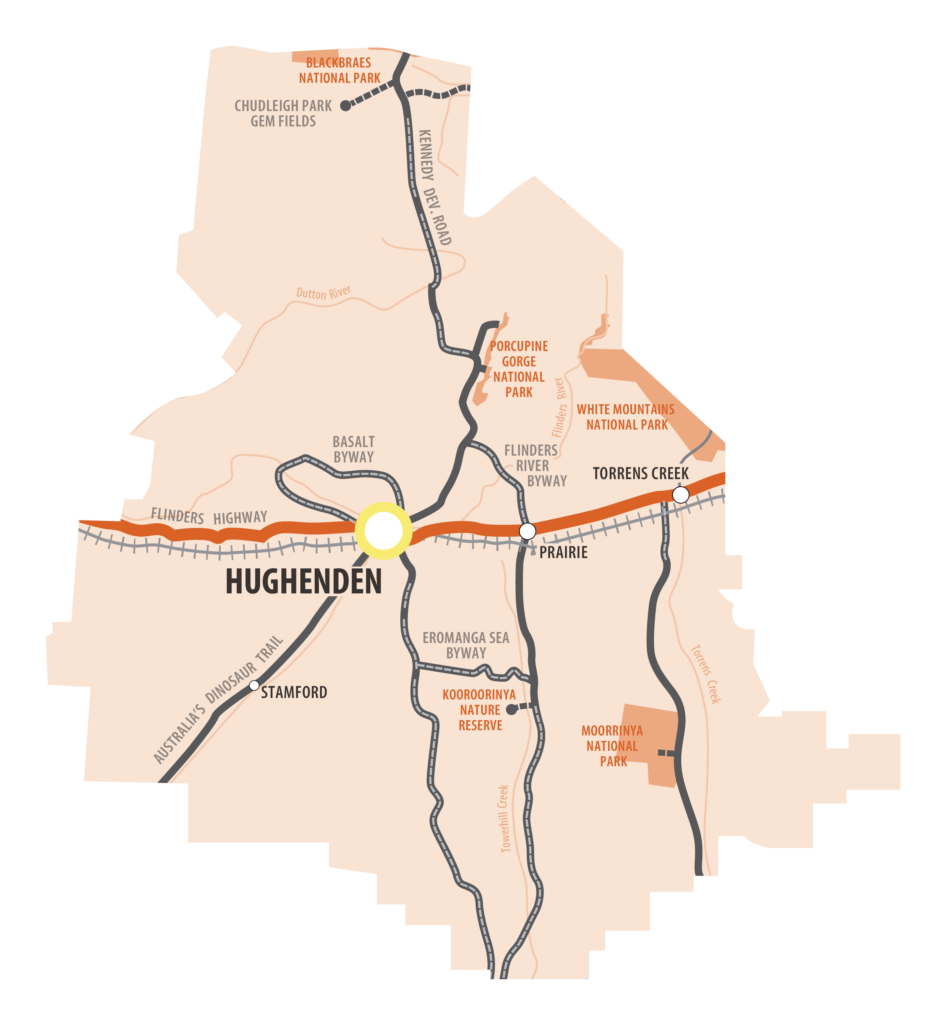 For a little town, there is a lot going on and we want you to be a part of it.
Businesses, much like travellers, are falling in love with the sweeping scenery, sunsets and of course the opportunities in Hughenden. Flinders Council has been encouraging businesses to set up shop in the region and are offering incentives to pique interests. Here are just some of the exciting infrastructure projects
AUSTRALIA'S NEXT GREAT FOOD BOWL
SMART FARMING, PRECISION IRRIGATION FROM SECURE WATER NOT SEASONAL WATER
Flinders Council has proposed a Smart Agriculture Precinct – with an allocation of secure water from the great artesian basin paired with the endemic rich black soil of the region Hughenden is on track to become Australia's next great food bowl.
Australia has a proud history of farming and agriculture – an industry that now contributes close to $50billion to Australia's GDP. With a predicted global population of 9.5billion by 2050, the need for producing food and the opportunity to export has an increasing investment appeal.
In 2019 Flinders Council Secured the 15 Mile irrigated agricultural precinct. The precinct offers an investment opportunity for agricultural industries to develop and grow fruits, nuts and vegetables in the Hughenden region.
Flinders Council is taking expressions of interest with some companies already onboard – such as ​​Victorian company Marciano Table Grapes.
RETAIL precinct
CREATING A RETAIL ENVIRONMENT THAT SUPPORTS LOCAL BUSINESSES
Flinders Shire Council is investing in the beautification and revitalisation of the Brodie Street precinct area. Acknowledging our community's heritage, supporting a budding retail industry and the beautification of the main street of Hughenden is on the agenda. With so much happening in Hughenden and the Flinders region now is the right time.
The chief focus of the revitalisation is to ensure local business growth. When coupled with emerging industries (Agriculture, meat processing and renewable energy) investing in Hughenden and opening a business starts to make a lot of sense.
The Brodie Street retail precinct will be a meeting place for Flinders Community and a place to stop for travellers, offering a Biophilic design, reducing temperatures and improving the visual aspects of the central business district.
Another reason to head to Hughenden and another opportunity to make the most of it.
MEAT PROCESSING WORKS
HUGHENDEN LEADS THE CHARGE WITH BEEF EXPORT
Closure of meatworks in regional Queensland has reduced the marketing options for millions of cattle located in the state's "Outback" region. This area has over 30 per cent of the state's total cattle. Demand for beef and beef co-products from Asia's expanding markets is intensifying and is expected to rise over the coming decades because of population growth and higher per capita incomes.
Flinders Shire Council has taken the first steps to secure the region's place as a reliable, innovative supplier of quality Australian beef to growing markets in Asia, the Middle East and other parts of the world.
With the project looking promising Hughenden is expecting to see a large workforce inbound to support the initiative.
Looking for new business opportunities? The meat processing works will certainly present options for you.
ALTERNATIVE ENERGY & RENEWABLES
MAKE HAY WHILE THE SUN SHINES… AND THERE IS A LOT OF SUN
Hughenden and the Flinders region gets plenty of sunshine and plenty of wind – what better place to create a renewable energy plant? Taking advantage of the area's natural abundance of wind and solar, the Kennedy Energy Park will supply energy to the grid with reliability never before seen in the Australian renewable industry.
As the project continues, Hughenden will continue to thrive as population and regional awareness increases.
NEW INDUSTRIAL ESTATE
WE'RE READY WHEN YOU ARE
The Hughenden Industrial Estate is situated 2km West of the centre of the Hughenden township.
The overall industry zoned land making up the Industrial Estate currently has a total area of 35.9 hectares. All blocks in the existing estate are serviced by water, sewer and electricity reticulation.
The Estate is being progressively developed and to date all lots have been sold to the private sector, which has seen a variety of enterprises established such as:
Transport Services
Building and Concrete Supplies
Plumbing and Gas Fitting
Renewable Energy Facility
Diesel and Hydraulic Repairs (Parry's Diesel)
Council is currently planning for a stage 2 extension of the existing Estate development by undertaking a reconfiguration of remaining land in the "medium impact industry zone".
HIPCO DAM PROJECT
WATER IS THE NEW GOLD AND WE'RE WATER WISE
The current concept is to build a 9.5km rockfill embankment with clay core adjacent to the Flinders River on Saego station and make use of the natural topography of the surrounding basalt plateau to create a suitable "off-stream" water storage facility in the order of 190,000 megalitres (ML).
The project will make effective and efficient use of unallocated general reserve water within the Flinders River to deliver high-value horticulture crops, such as avocados, mangoes, lemons and mandarins and deliver cereal grains, hay, and fodder crops to support the local cattle industry.
With the 'secure water' from the great artesian basin and allowance of 10,000ML made available to Flinders Council already, the pump has literally been primed for new industry to come to Hughenden.
TOURISM
A TOWN OF FIVE ROADS ON EVERY OUTBACK TRAVELLERS MAP
Okay, so we're a little biased when it comes to this particular point, but there are a lot of reasons to come and visit Hughenden. With market trends continuing, in particular the caravan market and dinosaur markets, looking very strong over the next 10 years, investing in Hughenden makes a lot of sense.
One of the larger economic pillars across Queensland, the tourism industry is set to expand with a particular focus on the 'Outback' experience and 'Hughie' is front row and centre.
THE CATTLE INDUSTRY
AT HUGHENDEN WE BRING THE BEEF
There is a significant demand for clean, grass-fed beef. Beef is our largest agricultural export and it's humbling to know that our beef is served on dishes around the globe.
Hughenden is situated at the junction of five roads and this unique, central location is ideal for freight in each direction. With the recent addition of bitumen on the Kennedy Developmental Road, which is expected to be fully sealed by end of 2022, opening up the northern markets including Cairns plus the port of Townsville a four-hour drive away, Hughenden cattle will feature more and more on menus near and afar.
Endless Horizons and Opportunities
Recreation IN HUGHENDEN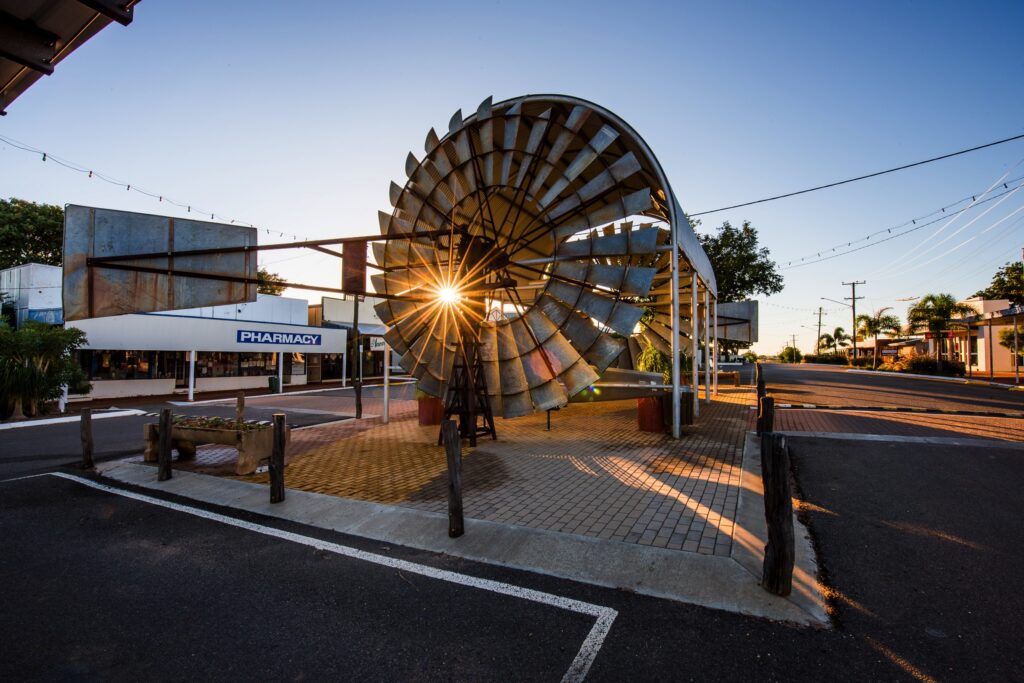 Hughenden has a lot to offer tourists, whether they are passing through for a few days or intend to put down roots and stay for generations. With a variety of gorgeous national parks on our outskirts and more development in town than ever before.
Hughenden isn't just built on endless horizons, but also a few enormous smiles.
ART & SCULPTURES
AN OUTBACK ARTIST'S HAVEN
Hughenden is an outback artist's haven. Take in a trail of sculptures scattered through the town, admire the mammoth murals and let the staggering history of the region wash over you, both recent and ancient.
Coolabah tree
A STAPLE OF AUSTRALIAN HISTORY
Spend some time under the Coolibah tree. The tree is a staple of Australian history. You'll stumble on the treat at the entrance to the Hughenden Showgrounds.
The Historical Coolabah Tree is linked to two relief missions in search of the Burke and Wills expedition. Both expeditions blazed the tree, passing it on their search to find the Flinders River, triggering the growth of settlement in the area.
ECO WALK
WALK ALONG THE DIVERSE BIOREGIONS OF FLINDERS SHIRE
Take a stroll on the Eco Walk on Flinders. Enjoy a walk along the diverse bioregions of the Flinders Shire at Eco Walk on Flinders.
These ecosystems have been replicated along the northern banks of the Flinders River with over 1.5km of walking tracks. Along the pathway are species of flora and local artworks illustrating important events, and the myriad of the diversity of the Flinders Shire.
WINDMILLS
ONE OF ONLY 15 GIANT WINDMILLS EVER CREATED
Take in the Windmills – Hughenden is somewhat famed for its windmills.
Take the mammoth 35 foot comet windmill on the outskirts of town at Wirilla Station. One of only
15 giant windmills ever created and have the ability to pump over one million litres of water per day.
Federation Rotunda
A CELEBRATION OF SCULPTURE
If you're in town make sure you head to Brodie Street and see the Federation Rotunda, an artistic sculpture made from two 20 foot blade windmills connected by a sheet of iron. Made by local artists, the sculpture was erected as a celebration of the Centenary of Federation in 2001.
Hughenden Recreational Lake
MAKE THE MOST OF THE COOL WATER AND THE FACILITIES
Constructed in 2019 as a joint initiative between Flinders shire council and the Australian government – The Hughenden Recreational Lake is a multiple-use lake. Shared by boaters, water skiers, kayakers, rowers and swimmers. All visitors are welcome and we encourage you to make the most of the cool water and the facilities. Need a swim, into your boating, want to drop a line or ready for a canoe? The lake is your go-to place!
Brodie Street precinct
PLENTY OF OPPORTUNITY TO STROLL THROUGH LOCAL SHOPS AND LET THE KIDS RUN LOOSE
The Brodie Street precinct area has been refurbished and is the principal retail area of Hughenden, boasting art, a naturally cooling biophilic design and plenty of opportunities to stroll through local shops. We recommend taking some time to walk the precinct, stop in for a coffee or sit in the park with your shoes off, have a BBQ and let the kids run loose.
SCHOOLS
PERSONALISED LEARNING IN THE OUTBACK
Hughenden State School serves students from Prep to Senior education and has an enrolment of roughly 85 primary students and 45 secondary students. They are able to provide a personalised learning path for their pupils because they are a small school. This is demonstrated by the large proportion of senior students enrolled in personalised learning programmes ranging from traineeships to introductory tertiary subjects.
St. Francis Catholic Elementary School Hughenden is located on the Flinders Highway, 380 kilometres west of Townsville. In October 1900, six Good Samaritan Sisters arrived to establish the school. The initial enrolment was 12 children, but it rapidly swelled to 175, including a few boarders. St Francis Catholic School is a small school that serves kids from Prep to Year 6 and has a rich history of offering high-quality education in a Catholic setting.
Real estate
ACHIEVE THE AUSSIE DREAM
Hughenden has a population of 1,132 people, with rental housing accounting for 22.64 percent of the housing stock. The typical listing price for homes in Hughenden is $150,000, a -4.46 percent decrease from the previous year. This indicates that the median home price in Hughenden is around $400,000 less than the median listing price for a unit in suburban Brisbane and about $200,000 less than the median listing price for a house in Townsville. This suggests that Hughenden provides a plethora of investment prospects as well as affordable housing for those interested in the region.
Work Opportunities
EMPLOYMENT AND PROMISE OFF GROWTH
Hughenden has more than a century of the agricultural industry in the region, so there's plenty of work for individuals who don't mind getting their hands dirty. Hughenden also acts as a major rail hub for the northbound rail network, providing plenty of regional jobs in the rail and distribution industries.