The Flinders Discovery Centre is sporting a brand-new look and a plethora of exciting additions. After an extensive renovation, the centre is set to delight visitors of all ages with a host of fresh displays, interactive exhibits, and enriching experiences during your next outback Queensland adventure.
Journey into the Past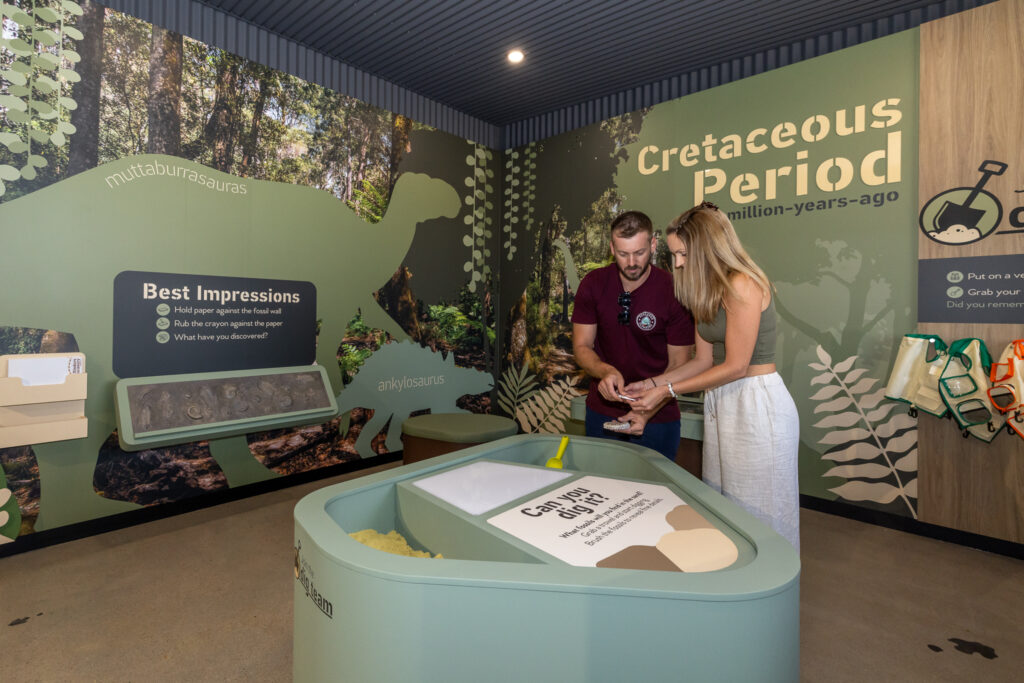 Step into the original museum, where history comes to life through captivating displays. The newly introduced "Ancient Forests and Fearsome Reptiles" showcase, complete with a display case, whisks you away to prehistoric times. Imagine encountering colossal creatures that roamed the earth millions of years ago.
Next, explore the "Land Of Lizards," featuring an informative board and a display case that introduces you to the fascinating world of these remarkable reptiles. Learn about their unique characteristics and adaptations.
"Before the Birds" takes you on a journey back to a time when flying reptiles ruled the skies. An engrossing board and display case transport you to a world of incredible winged creatures that dominated the ancient skies across Australia and the Flinders region.
Delve even deeper into the past with "Watery World of Predator and Prey," a mesmerising board and display case that invites you to explore the mysterious world beneath the waves. Discover the incredible marine life that lurked below the surface of the ancient Eromanga sea.
Be sure to enjoy the thrilling "Muttaburrasaurus Langdoni" exhibit – a highlight for travellers. Featuring an interactive board with push buttons. Experience the prehistoric sounds of Muttaburrasaurus, Pterosaur, Dinosaur Hatchling, and the mighty Tyrannosaurus Rex through the magic of technology.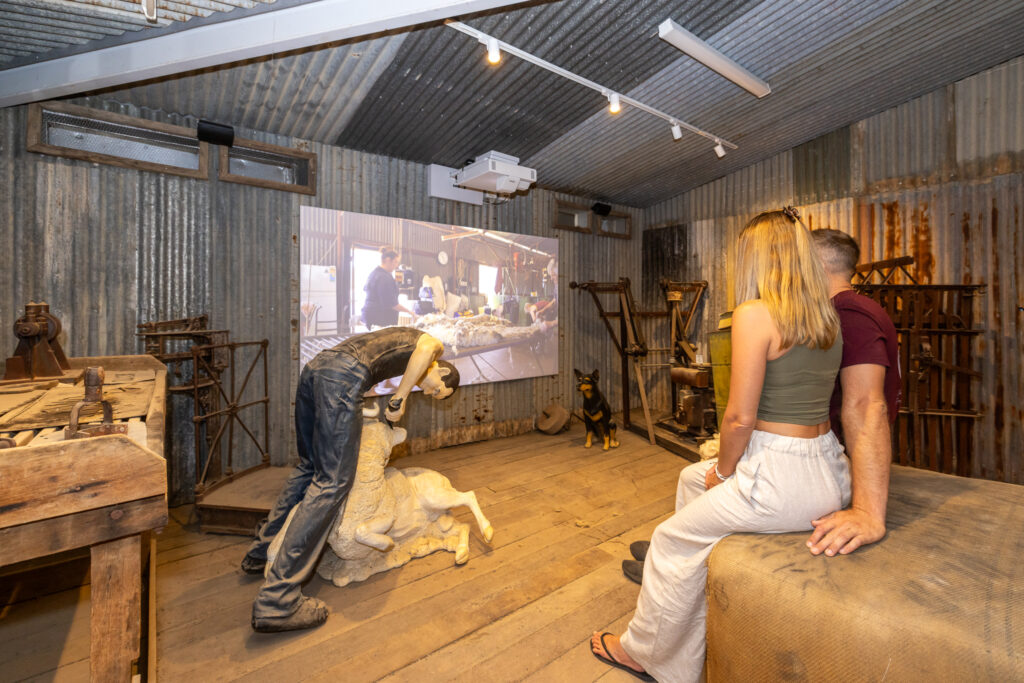 A Shearing Spectacle
The renovated centre doesn't just take you on a journey through time; it also brings a piece of local history to life. The new shearing display area boasts a projector that showcases a working shearing shed. Watch as sheep are expertly shorn and their fleece classed and pressed by a wool presser for an industry that is still very much alive in Hughenden to this day.
Engaging Exhibitions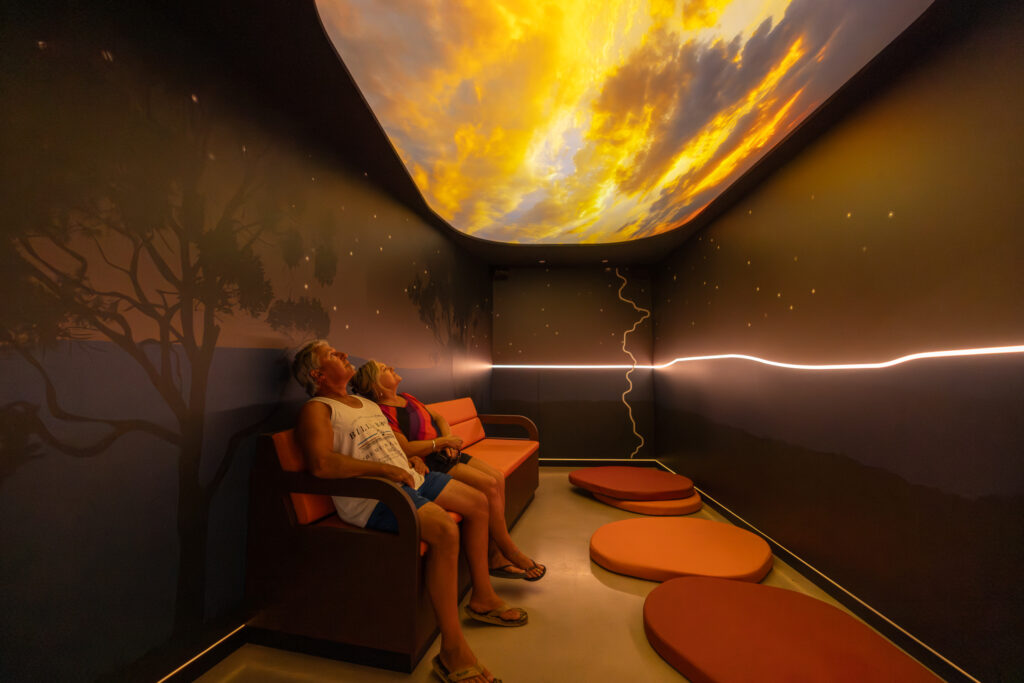 In the brand-new museum, you'll find an array of engaging exhibitions. Five screens with push buttons allow you to hear firsthand accounts from locals about their experiences in Hughenden. Gain insights into the town's rich history and vibrant community.
For adventure enthusiasts, a new 4WD explorer touchscreen offers a wealth of information on local escapes, including art and mural trails, tourist drives, dinosaur discoveries, national parks, and the scenic Mount Walker Lookout. It's your guide to unlocking the hidden gems of the region.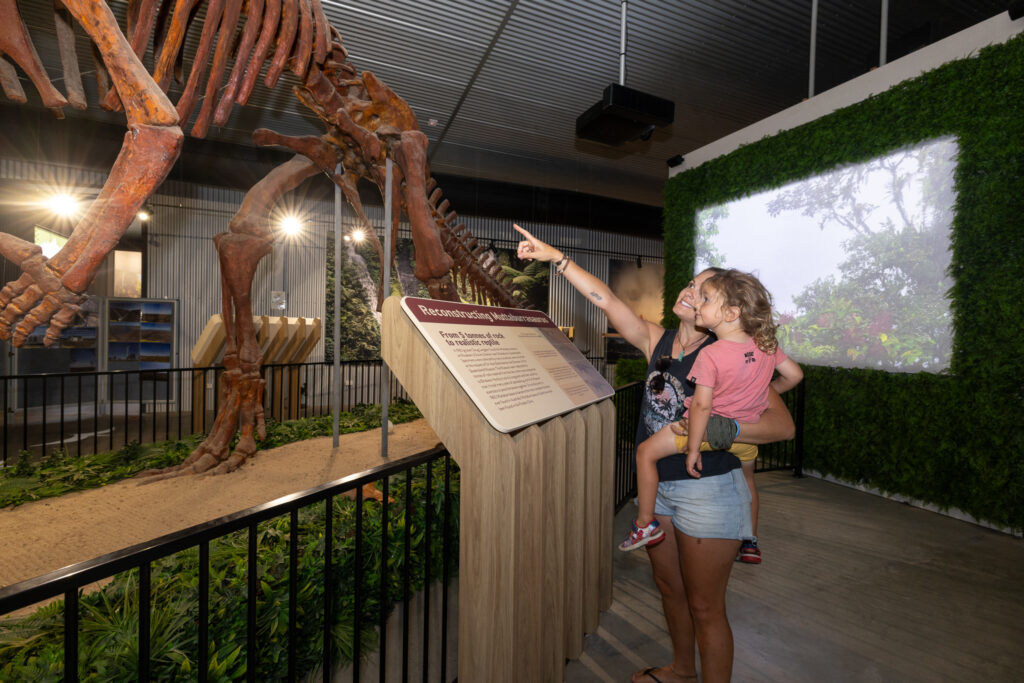 A Haven for Kids
The Flinders Discovery Centre is also a haven for young explorers. The new kids' play area features kinetic sand with buried treasures to unearth. There's an interactive touch screen where children can colour their own dinosaurs, creating personal masterpieces that can be captured for posterity.
For budding palaeontologists, "Best Impressions" allows kids to use egg-shaped crayons and paper to create imprints of different fossils. It's a hands-on experience that brings the world of palaeontology to life.
A Journey through History and Culture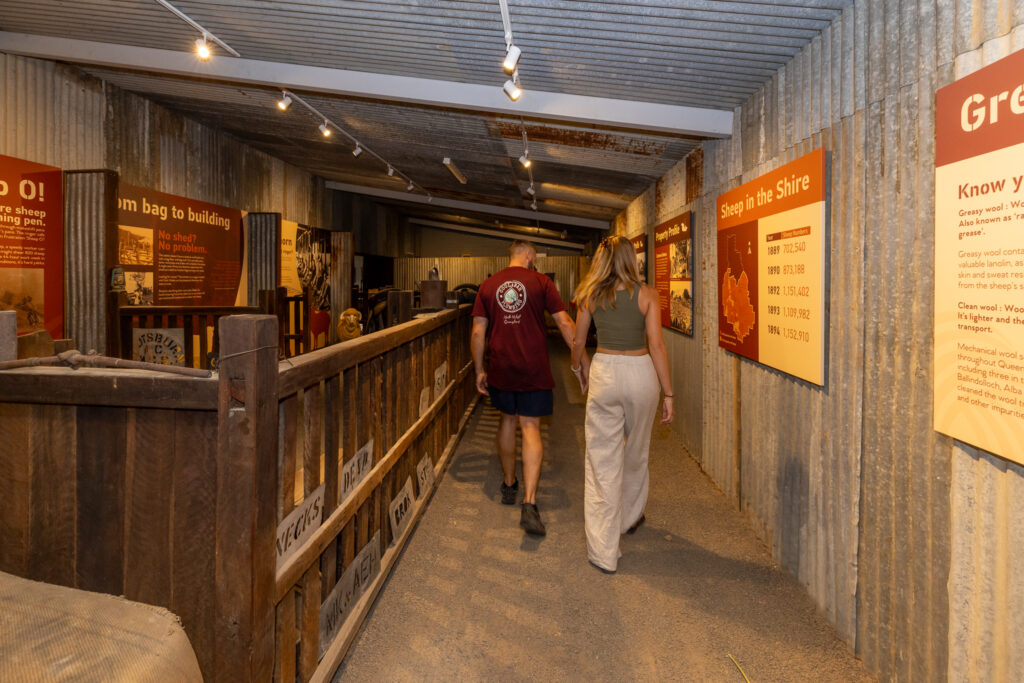 As you venture deeper into the new museum, you'll step into the Landscape Immersive Threshold, an experience that takes you through the history and culture of Hughenden. Learn about Ernest Henry, the first pastoralist to name the town, and his cousin Robert Gray, to whom he sold Hughenden Station.
Immerse yourself in the Yirendali Touch Screen, which explores the history and culture of the Yirendali people. The Yirendali Theatre provides a tranquil setting where a poem written by Beryl Hunter is recited, allowing you to relax and gaze at the stars overhead.
Opening Hours
Monday – Friday: 9 am to 5 pm (year-round)
Saturday & Sunday (Tourist Season): 9 am to 3 pm
Saturday (Off-Tourist Season): 9 am to 1 pm
Closed on Sundays (Off-Tourist Season)
See you soon
The Flinders Discovery Centre couldn't thrive without the support of the wonderful ladies from the main office and the dedicated volunteers who provide assistance and ensure an enjoyable visit for all.
If you're planning your outback getaway make sure you come and explore the newly unveiled wonders of the Flinders Discovery Centre. It's a journey through time, history, and adventure that promises an enriching experience for every visitor.
See you soon!
Back to all News