Who doesn't love getting off the beaten track and spending some tranquil nights under the stars? Surrounding yourself with nature is a great way to relieve the stress that modern life can bring. And unplugging for a while is perfect for creating some quality time with those nearest and dearest. At Hughenden, we love camping and enjoying our wide starry night sky. Happily, we're blessed with a multitude of camping options from hidden gems in national parks to perfect escapes closer to town.
If you're heading to Hughenden with your tent, caravan or trailer in tow, our handy list of camping grounds will help plan your adventure.
Allen Terry Caravan Park – Hughenden

Situated in the centre of town on Resolution Street, Allen Terry Caravan park is an ideal caravan and camping choice for anyone looking for full camping amenities while travelling. The caravan park is located close to the supermarket and hotel.
Whether you have a caravan or tent, there are many affordable sites available with both powered and non-powered options to choose from. Many sites have shade from trees, open green spaces and ample room to park and set up with ease. Pets are welcome to accompany you when camping or staying in a caravan.
The camp kitchen includes 2 large barbecues, a fridge and microwave, boiling water on tap, plenty of bench space, undercover seating and a digital TV. Other facilities provided at the caravan park include amenities, laundry, a fire pit, a dump point, and a vehicle wash-down bay.
There is also a range of onsite accommodations ranging from single rooms to one and two-bedroom air-conditioned cabins with ensuite. All linen is provided so there's nothing to pack aside from clothes and food. Strictly no pets in onsite accommodation.
Learn more here https://www.hughendenvanpark.com.au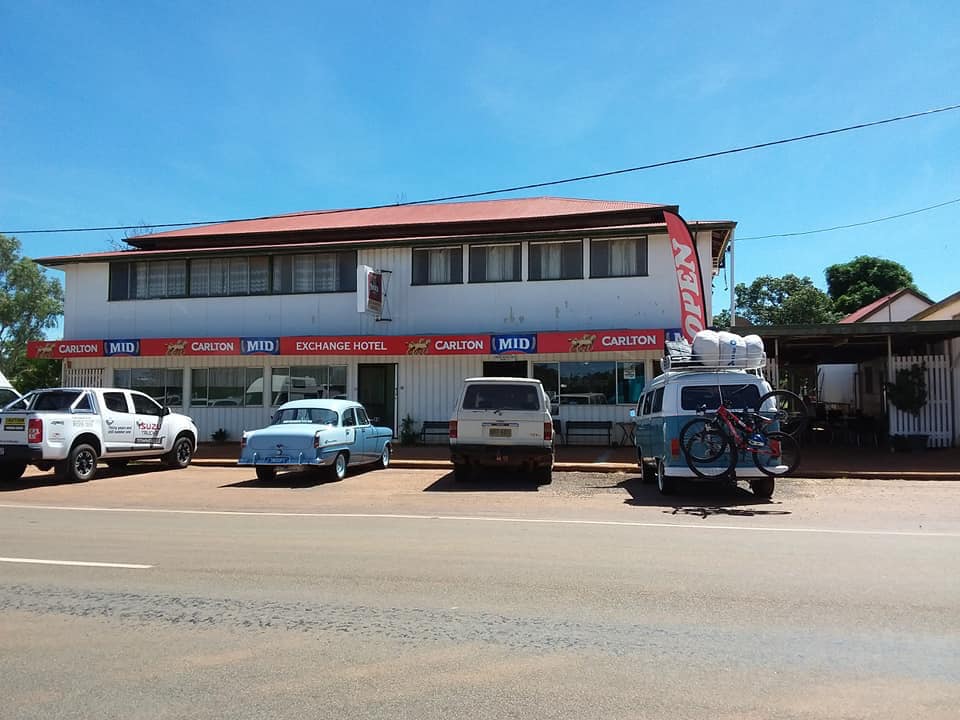 Exchange Hotel Camping- Torrens Creek
Torrens Creek Hotel Exchange Hotel has built a reputation for friendliness and generous, tasty meals. A true 'Aussie Pub' with a campsite out the back that offers powered and unpowered sites, hot water and bathroom facilities. If you're looking for an alternative, they also offer cabins. The prices are super reasonable and it's very welcoming – no matter how long you stay, make sure you drop by the pub for a great meal and yarn with the locals. You won't be disappointed with either. You can find Torrens Creek Exchange Hotel and campsite around 90 kilometres east of Hughenden.
Prairie Pub – Camping Area
The fantastic Prairie pub is a must-visit event, whether you have the camper in tow or not. An Aussie Pub to its core with some unique differences. The Prairie pub provides a 'donation appreciated' campsite or you can join them for one of their terrific communal meals. Make sure to register with the publican on arrival. The site is about 43km east of Hughenden with the campground behind the Prairie Hotel.
The hotel/ pub itself is a must. Have a cold drink, an easy-going chat and walk through the pub to get a glimpse into some iconic Aussie memorabilia. If you're there when they have the meal make sure you grab a seat. The meals are communal and you're sat at the table with everyone. The experience is great, the conversation flows and you part ways with new friends after discussing your regional experiences.
Campers please be aware that your vehicles must be self-contained as there are very few facilities here. If the pub isn't open when you arrive just give them a ring and someone will come to open the gate.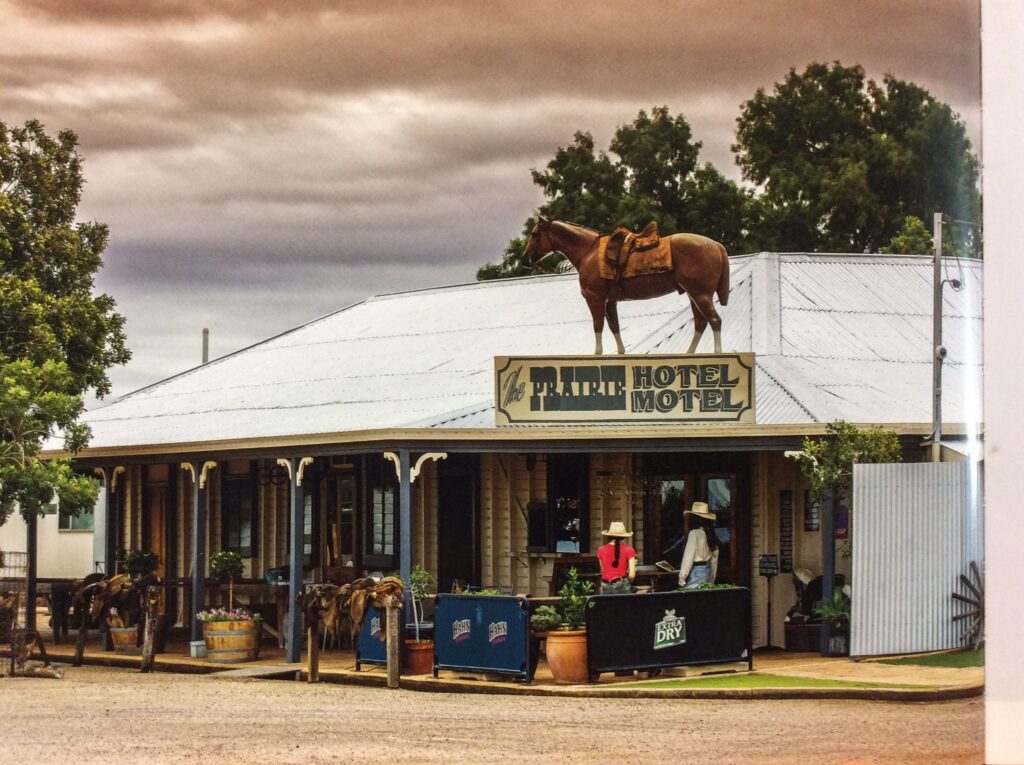 Camping at our National Parks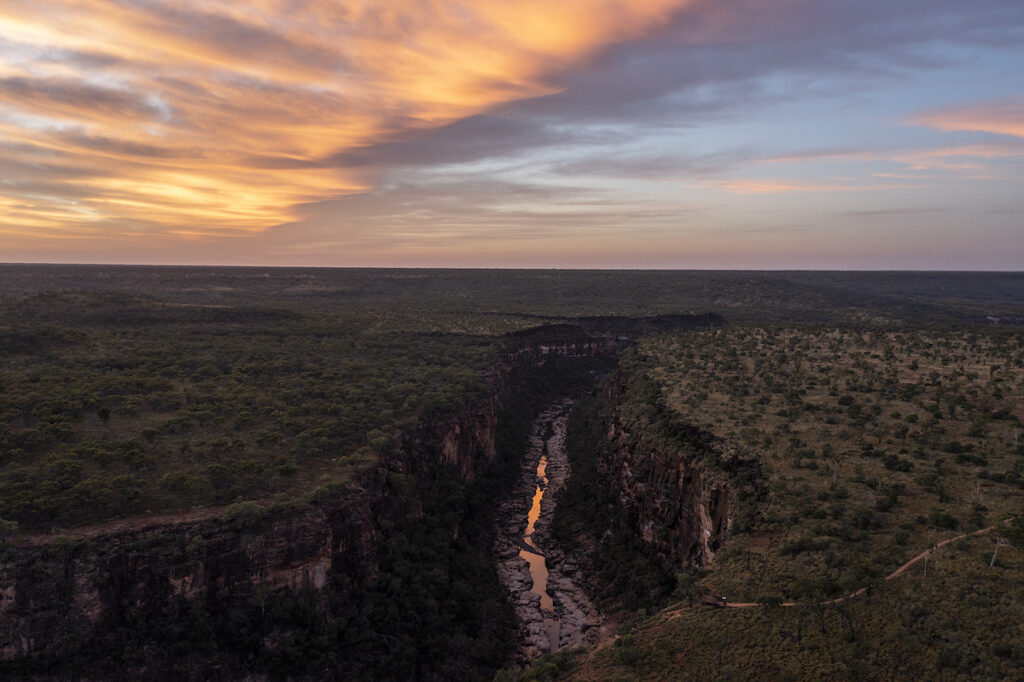 Kooroorinya Falls Nature Reserve – Camping
Kooroorinya Falls is a natural waterhole and a nature lover's dream. Visitors to the reserve will find heaps of activities available; canoeing, fishing, swimming, kayaking, bird watching, photography and of course, bushwalking for an up-close experience of the abundant wildlife. The nature reserve is pet friendly, so if you're travelling with your pet and want to make the most of the outback adventure, then put Kooroorinya Falls on the list.
Kooroorinya camping site offers travellers modern toilet facilities, hot showers and wood-fired barbeque sites. Visitors can self-register at the amenities block. Camping fees apply, and discounts for groups or extended stays can be negotiated. Please remember – check road conditions before travelling during wet weather & always carry plenty of water!
Learn more here – https://www.visithughenden.com.au/attraction/kooroorinya-falls-nature-reserve/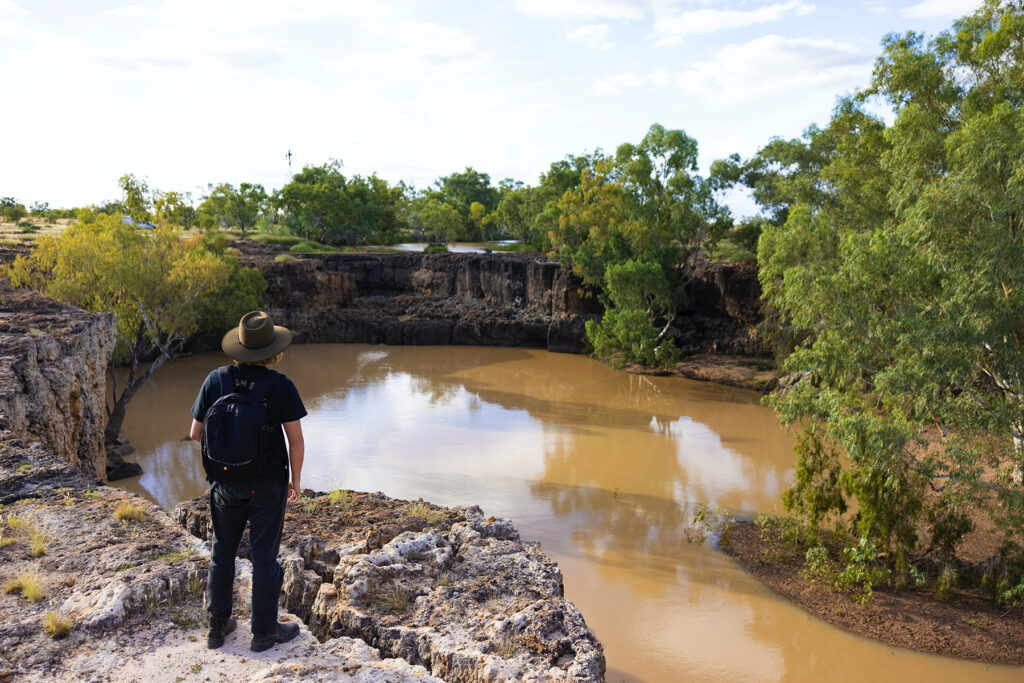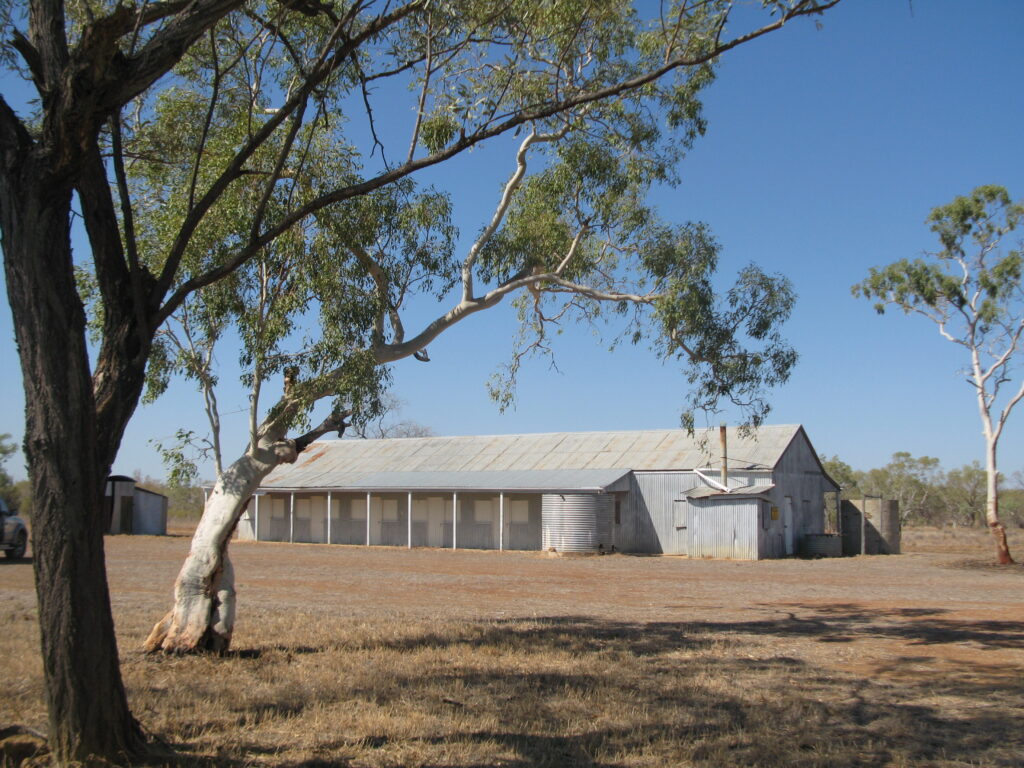 Moorinya National Park – Camping
Moorinya National park is a great Outback experience. The remote park is known for its dry flat plains crisscrossed by water courses and covered in eucalyptus, acacia and swathes of grassland.
Camping is available in a remote and undeveloped setting near the old Shirley shearing shed.
The campsite can only be reached by four-wheel-drive towing four-wheel-drive caravans and camper trailers. But even with 4WD, we recommend caution when driving.
There are seven separate, numbered campsites suitable for tent camping beside your car, camper trailers and large groups. The facility has a compostable toilet and fires are allowed using clean, untreated firewood.
The campsite is remote and there is no mobile coverage. Please make sure to have plenty of drinking water, some rubbish bags, insect repellent and a fuel stove.
Learn more here https://www.visithughenden.com.au/attraction/moorrinya-national-park/
Porcupine Gorge – Pyramid camping area
Covering an area of 5410ha, Porcupine Gorge National Park extends for more than 25km along Porcupine Creek and is surrounded by open woodland and grassland. The creek has carved an impressive canyon, revealing strata of sedimentary rock layers, spanning hundreds of millions of years – a must-see for any visitor to the region.
If you're planning an overnight stay, you can find the Pyramid camping area located in the upper region of the Porcupine Gorge. The campsites are suitable for: tent camping, caravans, camper trailers, and motor homes. Unfortunately, pets are not allowed as this campground is in the National Park.
Composting toilets and picnic tables are provided. Open campfires are permitted (in the provided steel fire rings only) but you will need to bring your clean firewood as collecting firewood from the park is not allowed. Ensure you bring your essentials such as food, water, fuel or gas cooking stove and bags for rubbish. Generators are not allowed to be used.
Learn more here – https://www.visithughenden.com.au/attraction/porcupine-gorge-national-park/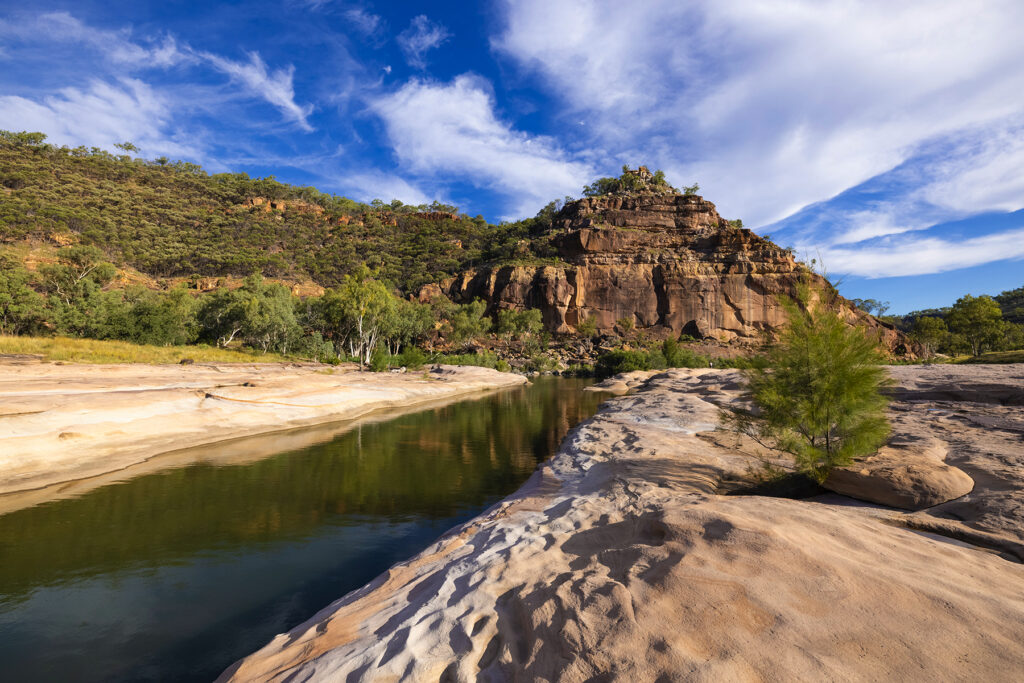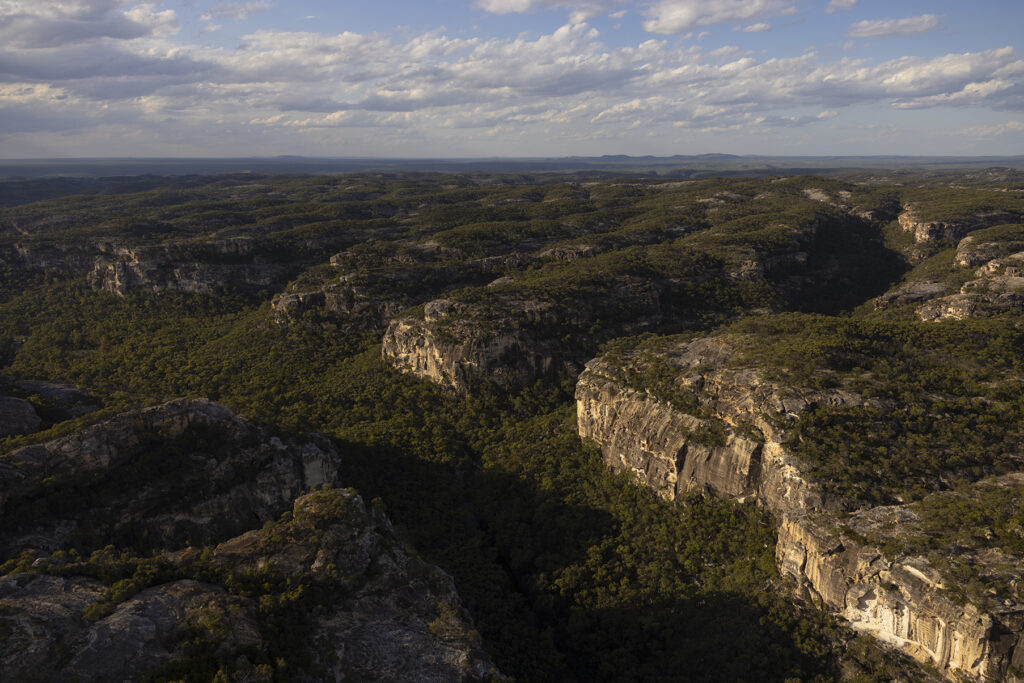 White Mountain National Park – Canns Camp Creek
Canns Camp Creek camping area is a partially-shaded quiet camping area in open woodland. This campground is only accessible to four-wheel drive vehicles – it is not suitable for caravans or buses. During the wet season and occasionally at other times, the road may be inaccessible. There are 8 sites available for tents and camper trailers. The campsite provides a hybrid toilet, and campfires are permitted in the fire rings provided, except when fire prohibitions or fire bans are in place. Bring clean firewood such as untreated, mill off-cuts as collecting firewood from the park is prohibited. Fuel stoves are recommended. Ensure you bring your essentials such as food, water, fuel or gas cooking stove and bags for rubbish. Generators are not allowed to be used. Packing insect repellent is recommended.
Learn more here – https://www.visithughenden.com.au/attraction/white-mountains-national-park/
Four Mile Waterhole camping area – Torrens Creek
Torrens Creek is a town steeped in history. From its European discovery in 1862 to nearly being destroyed in World War 2 due to a fire near an ammunition dump, Torrens Creek boasts quite a history. If you're in the area and want to get out under the stars, then be sure to visit the Four Mile Waterhole camping area.
Perfect for solitude and enjoying truly unspoiled nature, the site is open for bush camping near the banks of Torrens Creek and is situated 8.5km from the park entrance.
Dry weather access only
Suitable for tent camping and camper trailers
There are no facilities on site
Open fires are permitted but you must bring your own wood as collecting from the park is prohibited.
The site is remote so make sure to bring your water, rubbish bags, first aid kit, insect repellent and communication device.
Access is 4WD only
Free Camping and Facilities Hughenden
Hughenden Campground / RV Park
The Hughenden Campground is designed for fully self-contained travellers with a stay of up to 7 nights. To camp at this site, you must have a built-in toilet and shower. Pets are allowed, fresh water is available, and there is a dump point and bins. The campground is conveniently located within walking distance of town, making it the ideal spot to set up for the night and explore Hughenden, grab a meal, meet the locals and take in one of our spectacular sunsets.
We kindly ask that all campers register and have a permit displayed. Permits are available at the RV camp through self-registration onsite. You can get the information you need below.
Learn more here https://www.flinders.qld.gov.au/our-community/council-facilities/hughenden-showgrounds
Time to hit the road?
For grey nomads, fearless off-roaders or those just dipping their toe into the outdoor life, you'll find a campsite for you in Hughenden. You're sure to be amazed by the stunning landscape and the variety of wildlife in the area. From kangaroos and emus to bird species a-plenty, there's always something to see in the Outback. So pack your bags, grab your tent, and head to Hughenden for an unforgettable camping adventure.
Further reading and sources
https://parks.des.qld.gov.au/parks/porcupine-gorge/camping
https://directory.fullrangecamping.com.au/item/torrens-creek-hotel-motel-and-van-park-cg/
https://parks.des.qld.gov.au/parks/forest-den/camping/four-mile-waterhole
https://parks.des.qld.gov.au/parks/moorrinya/camping
https://parks.des.qld.gov.au/parks/porcupine-gorge/camping/pyramid
https://wikicamps.com.au/site/Queensland/Campground/Kooroorinya+Falls+Nature+Reserve/22036
Back to all News