In January 2021, the Jones family arrived in Flinders Shire, drawn by the vast landscapes and the allure of life on a cattle station near Porcupine Gorge. Katie Jones, a talented artist and children's book illustrator shares her journey from the Canadian Rockies to the Australian outback, capturing the essence of this unique region through her artwork.
"Our family arrived in Flinders Shire when my husband got a job as Assistant Manager on a cattle station near Porcupine Gorge. I remember it was raining a lot, and we had to wait for a break in the weather to move in, as the road was rained out. The road to the Gorge and campgrounds is bitumen, and after that, there are around 30 km of dirt leading to the house we live in, with more than one creek crossing it," recalls Katie Jones.
From the Canadian 'Rockies' to the outback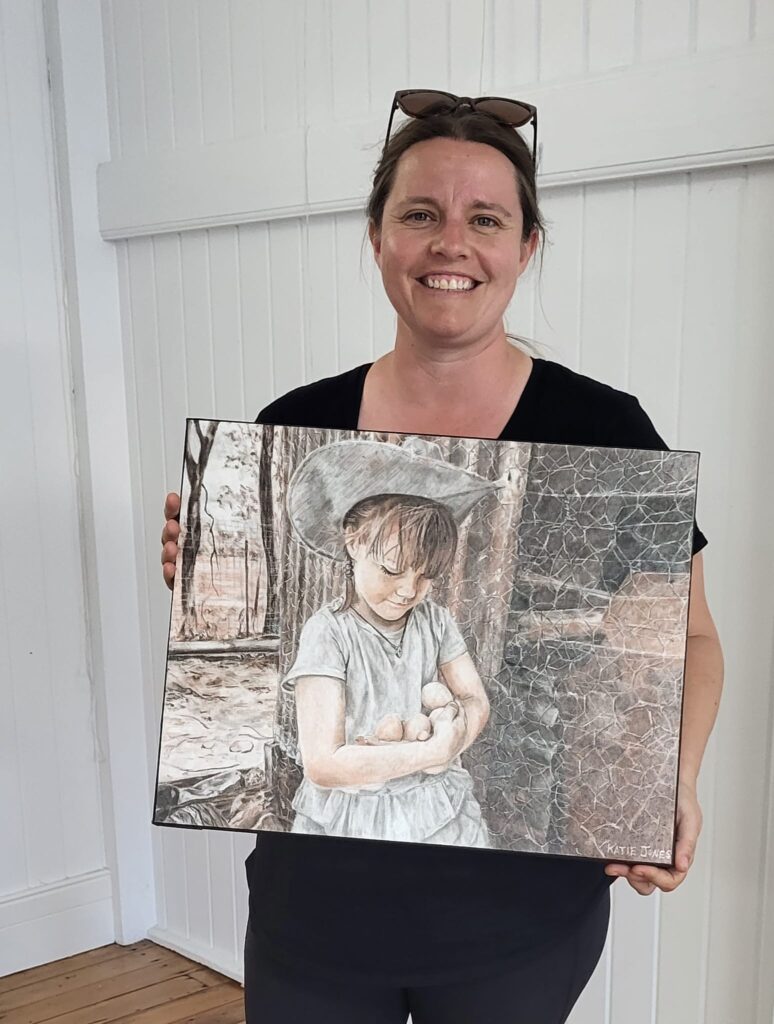 Originally from Canada, Katie pursued Fine Arts and Journalism. "I met my husband, Jet Jones, in Banff, Alberta, where we were both working for an outfitter: I was working as a cook, and he was working shoeing horses and mules and packing mules in the mountains."
"I studied art at university in Canada, but I got serious about it here in Australia. We have three children, and my husband and I noticed there was a lack of children's books about the bush. Jet had the idea for our first book, 'Not Far to Go Now,' one day while he was mustering. He came home and wrote it out, and I began illustrating it, using images of our family and our cattle. I predominantly use charcoal and shades of brown chalk in my pieces. I find the colours suit the climate we live in. Occasionally, when I feel the need to capture one of our amazing skies, I paint with oils."
Image: Katie Jones
Inspired by the outback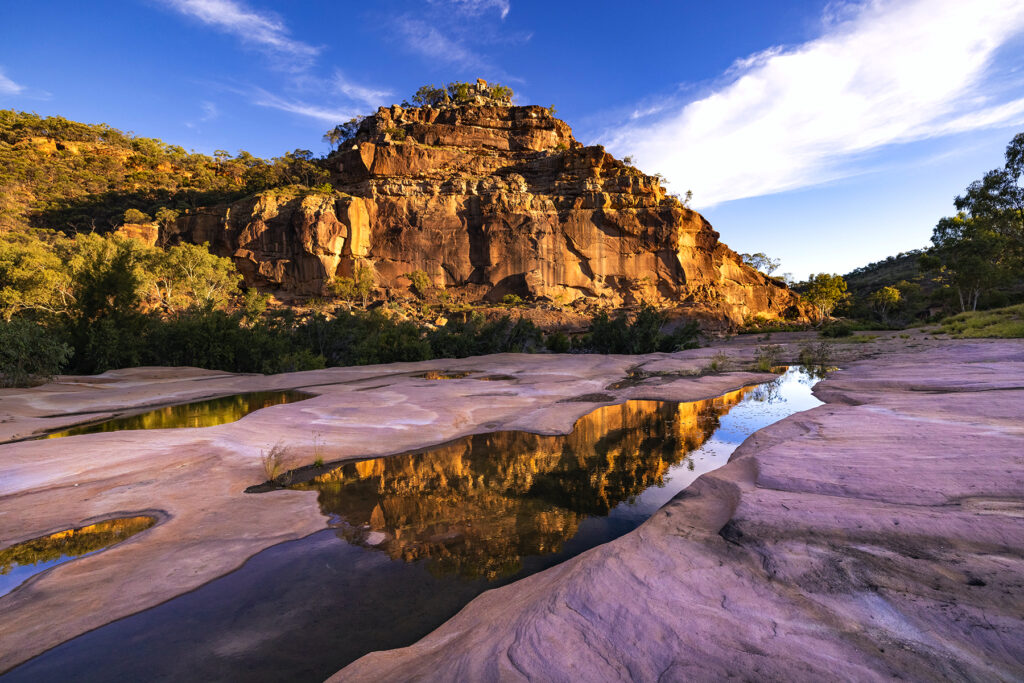 Above: Pyramid Rock, Porcupine Gorge
Describing herself as a bush artist, Katie emphasises, "Almost all of my art is inspired by the Australian outback. The cattle station we live on here in Flinders Shire features heavily in the artwork for our most recent book, 'A Bore Without Chores.'"
Katie draws inspiration from the vast landscapes of outback Queensland. In particular Hughenden's Porcupine Gorge.
"Porcupine Gorge, which runs through the station we live on, is a highlight of the natural landscape of the area! I taught an art workshop in Hughenden earlier this year, and the Gorge and Pyramid Rock featured in the artwork participants chose to create.
Despite the remote location of Hughenden, there's been an emphasis placed on art and culture with murals and larger-than-life artworks dotted through the town. Katie is familiar with the town's art scene and encourages visitors to keep an eye out when staying in the area.
"If you're interested in art, there are a few great murals on water tanks in Hughenden that I would definitely recommend checking out. There is also an Artisans Collective where local artisans sell their wares."
Hughenden Events
Encouraging exploration of the local scene, Katie recommends the authentic bush experience of the annual Hughenden Show and the lively Country Music Festival as well as the Festival of outback Skies.
"I was a workshop instructor at the inaugural Festival of the outback Skies in 2023, and it was an amazing experience. The feedback from the festival was overwhelmingly positive. I'd also recommend the annual Hughenden Show if you want to experience a true bush show, and the Country Music Festival which my husband Jet usually participates in is always a lot of fun."
Living in Hughenden
Hughenden has emerged as an ideal community for families, offering a rich tapestry of activities for both kids and adults. Junior League, gymnastics club and artistic gatherings, the town weaves a welcoming atmosphere for all, reflecting a deep sense of community spirit.
"Hughenden is a great community if you have kids. Our kids have played footy for the Junior Hawks Junior League for the last two years, and have really enjoyed it. There's also an excellent gymnastics club and pony club. For artsy adults, there's the Hughenden 'Urban Sketchers in the outback,' that meets up once a week. Our family is also very active in the local Anglican Church, which is headed by Rev Steve Anderson, whose family has lived in the area for generations. It's a very welcoming community."
Living remotely does present some challenges however for an emerging artist.
"The isolation does pose its challenges. It can be very difficult to find venues to showcase your art, and the artist community is a lot smaller, though it is still present. The internet has created new opportunities for artists in the bush. We aren't anywhere near as isolated as we were, say, even 20 years ago. I have had people reach out to me online, and have even met up for a cuppa with caravaners who have seen my artwork and messaged me for a chat."
Get to know Katie's Art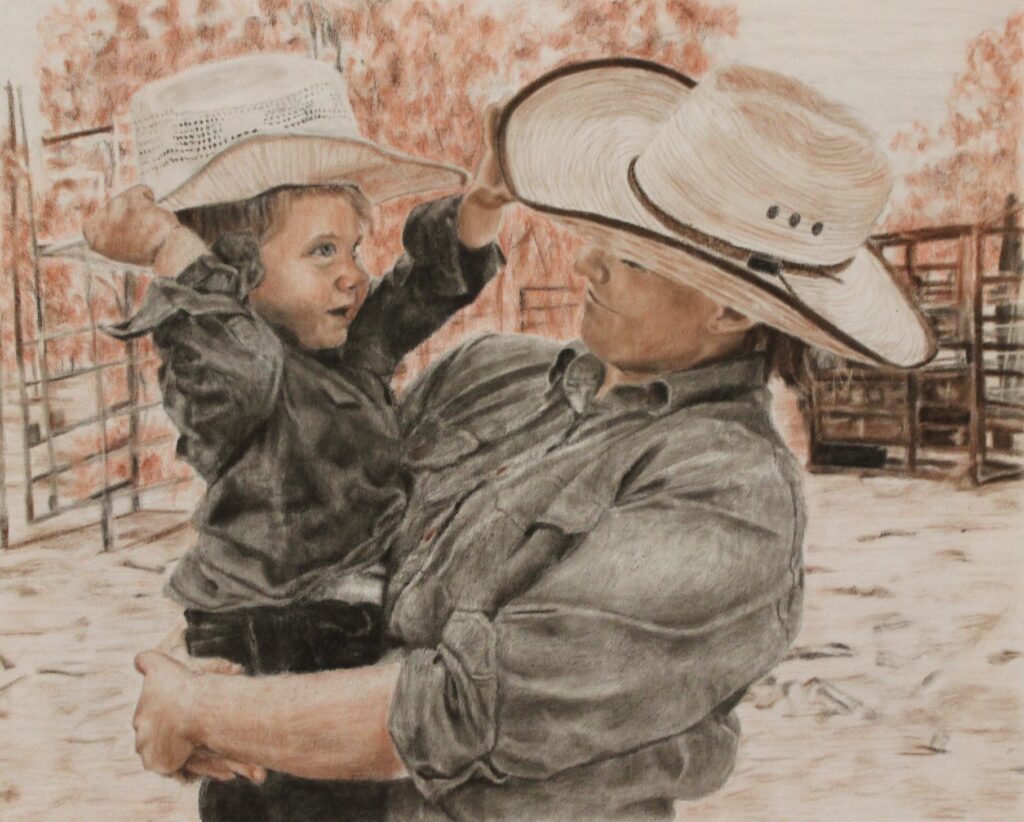 Above: Some of Katies art and published works
Marking a significant milestone in her artistic journey, Katie recently featured her art, 'Games That We Play,' at the Drill Hall Studio in Townsville. The exhibition featured captivating artwork from her latest children's book, 'A Bore Without Chores.' She's also hinted at her next exhibition in 2025.
"This past year, I had an exhibition at the Drill Hall Studio in Townsville, 'Games That We Play,' featuring artwork from our new children's book, 'A Bore Without Chores.' I'm now working on artwork for another exhibition in 2025. I won't say more about it right now, but I'm very excited about it!"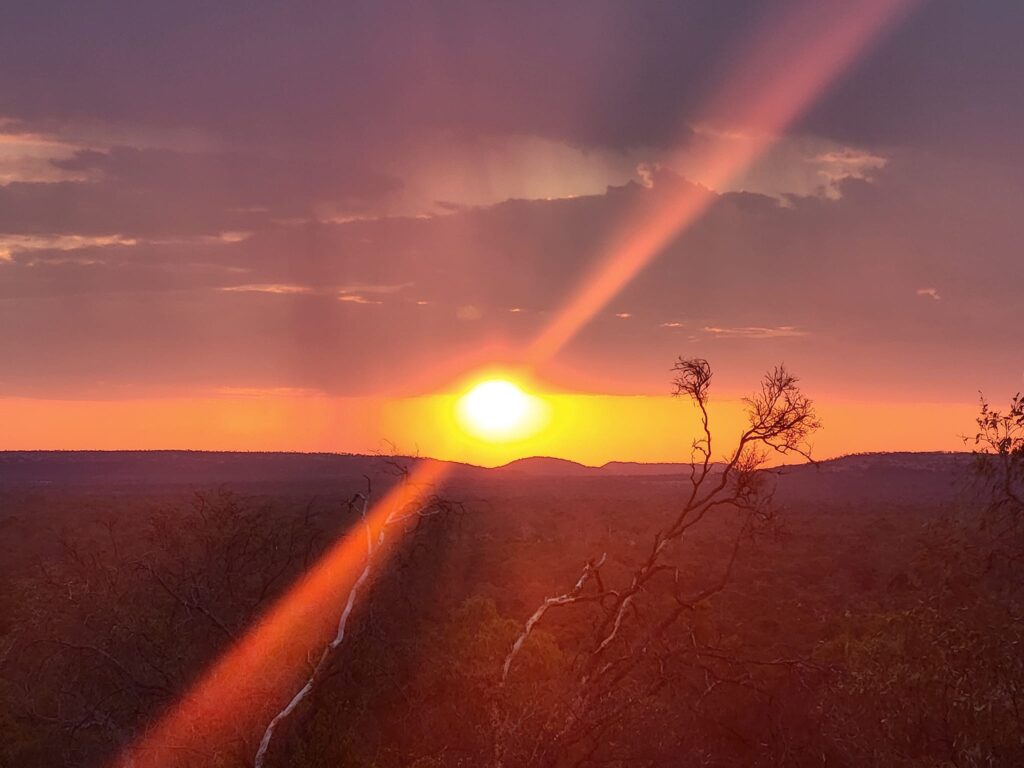 All good things must come to an end
As the horizon of their time in Flinders Shire begins to shift, Katie Jones reveals that their chapter in the region might be coming to a close. With Jet's job reaching its conclusion, the Jones family prepares to embark on a new adventure, transitioning to another cattle station. Reflecting on the past two years, Katie acknowledges a profound sense of blessing for the enriching experience their family has enjoyed in Flinders Shire.
"It does look like our time here in Flinders Shire may be drawing to an end soon. Jet's job is ending, so we will be moving on to another cattle station. Our family has loved our time here, and feels blessed to have been able to spend the last two years here."
Image: Jet and Katie Jones
Like a true artist, Katie has seamlessly woven the essence of the Australian outback into her captivating artworks, children's stories and family life. From the rugged beauty of Porcupine Gorge to the lively events of Hughenden, Katie's artistic journey unfolds as a vibrant narrative, capturing both the challenges and joys of life in the bush. As she embarks on a new chapter, bidding farewell to Flinders Shire, Katie invites you to stay connected and explore her artistic world through her social media channels. Join her on this ever-evolving journey, where the brushstrokes of the outback continue to paint tales of inspiration and creativity.
Follow on Facebook – HERE
Purchase some of Katie's Art and Books – HERE
Back to all News